Severn Trent powered by food waste
Severn Trent Water (STW) is to invest £13M to build an anaerobic digestion (AD) plant for food waste at its sewage treatment works near Coleshill in Warwickshire. The company said: "Once it's up and working we will be able to convert local food waste into usable energy."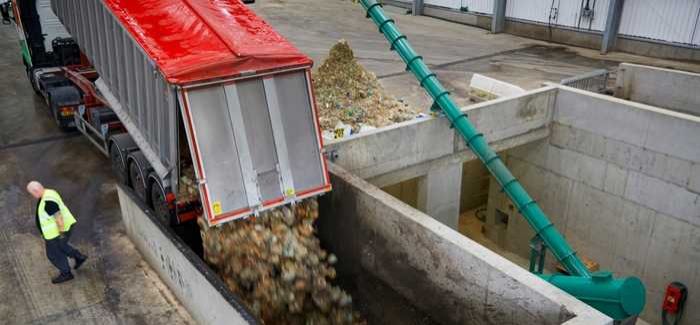 The new AD will process food waste from within 40 miles of the site
Severn Trent currently generates almost a quarter of the electricity requirements of its water and wastewater business with renewable energy itself and said it is on target to increase the figure to 30% by 2015.
Most of STW's renewable energy is produced from the AD of sewage – it operates105 digesters at 35 sites; generating 195-gigawatt hours/year – but it also generates power from the AD of crop silage, hydro and micro-photovoltaic, with 2014 to see commissioning of the company's first large wind turbines.
Project leader Mike Surrey said: "Just in our region, there are 750 kilo-tonnes of available food waste every year. At the moment a lot of this just rots away in landfill, with no benefit to anyone. 
"However, when we've built this anaerobic digester we'll be able to generate electricity to power our sites and sell the extra back to the grid. The great thing about this is not only will it save Severn Trent a huge amount of money, it also helps to protect the environment."
STW said the capacity at the facility will be met primarily from commercial and industrial waste sources within 40 miles of the site, including schools, supermarkets, hotels, restaurants and food manufacturers. Liquid wastes will also be processed, such as compost leachate, waste cooking oils and drinks manufacturing waste. Rainwater collected from onsite surface water attenuation and rainwater harvested from the roofs of site buildings can also be used in the process.
The company said: "The provision of the plant would allow surrounding local authorities to consider alternative methods for the treatment of food waste. It is anticipated food waste arising will continue to increase within the immediate area and although a number of sites have been identified for their treatment, there is currently uncertainty about whether they will become operational."
Surrey said: "The Coleshill plant is currently being built, and by the end of the year it should be converting up to 50,000 tonnes of food waste into energy and a high quality bio-fertiliser. This is energy that would otherwise have been wasted. Generating energy this way is not only great for our customers' pockets, it's also a great way of keeping down carbon emissions, and helping to protect the environment.
"And this is only just the beginning. Once the digester is operational, we have plans to roll out food waste plants across the Severn Trent region, and we're looking at where we're going to put the next two plants right now. We're already industry leaders for renewable energy and each of these plants is expected to generate around 2% of our energy needs."