Severn Trent opens UK's biggest biogas-to-grid plant
Severn Trent Water has opened a facility at Minworth Sewage Treatment Works that converts biogas from the anaerobic digestion process so it can be used in domestic gas supply.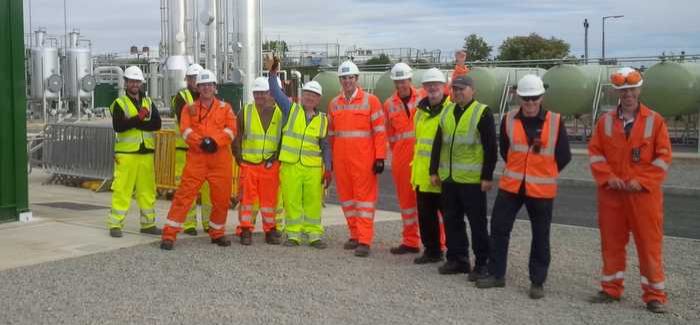 The project team celebrate the completion of the Minworth gas-to-grid plant
The gas-to-grid plant, the biggest of its kind in the UK, will be able to convert 1200 cubic metres of biogas an hour into 750 cubic metres of biomethane which will be injected into the National Gas Grid. It was successfully tested last week (Sep 24) and is now operational. It cost £8M to build, while another £4M was spent on installing combined heat and power generators.
Minworth, which is in Sutton Coldfield near Birmingham, has 16 anaerobic digesters, producing about 3400 cubic metres of biogas from its sewage treatment processes. Previously, this has been used to generate electricity and heat for use in the sewage treatment process, with excesses exported to the national electricity grid. However, the gas-to-grid project means that for the first time it can be used to supply homes with gas.
"Minworth is our largest sewage treatment works; we treat sewage from around 2.5 million people in the wider Birmingham area," said Simon Farris, Severn Trent's renewable energy development manager. "Although it's a little unsavoury, there's lots and lots of power locked in poo, and when that's processed it's perfect to generate clean renewable green gas.
"As part of the sewage treatment process, sewage sludge is produced. At Minworth we feed this to our 16 anaerobic digesters, or 'concrete cows', which work like giant cow's stomachs to digest the waste material to produce energy in the form of gas. Currently, we use 40 per cent of this energy to make electricity, but more can be done – that's where this new process comes in. With treatment, gas from sewage is made clean enough and at the right consistency to be injected into the gas supply network to power homes in the area. It's local gas produced from local people," he joked.
Within the plant, the gas is purified, compressed, tested for quality and then an odour is added to match the rest of the gas in the national network.
The gas-to-grid plant will run 24 hours a day, 365 days a year. Severn Trent estimates that the value of the gas supplied to the grid will mean that £1.7 million will be saved from the company's gas bill, a saving which it will pass on to customers. Since Severn Trent uses anaerobic digestion at each of its 35 sewage treatment works, there is significant scope for this model to be expanded in future.
"We generate renewable energy from a number of different sources to help keep costs down for our customers and protect the planet," said Farris. "Innovations like this will help us to generate around 30 per cent of the energy we need to power our sewage and water treatment works from renewable sources by 2015."
The lead contract partners on the project were Imtech UK and Lang O'Rourke, while Severn Trent also worked closely with National Grid Gas and CNG Services on the project. Key equipment suppliers included Uniflare, Malmberg, MCS, Wartsilla, Elster, Flow Gas and ERG.