Severn Trent opens major limewater plant at Frankley
Severn Trent has fully commissioned a new £14M state-of-the-art limewater plant at its Frankley Water Treatment Works (WTW) which serves Birmingham.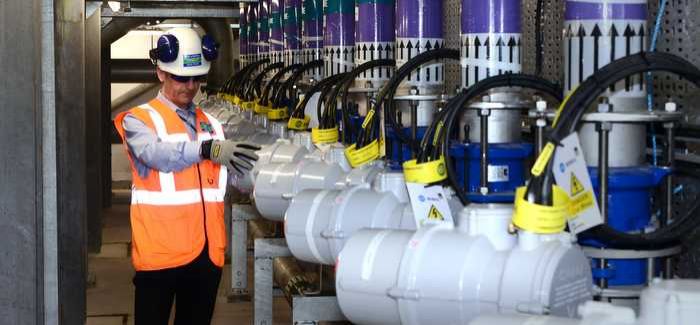 The limewater plant at Frankley is partly housed in the existing sludge treatment building
The new facility, which ensures the correct pH is achieved at each process for effective water treatment, replaces an existing plant that was built in the 1990s. It uses a new process that will produce a dissolved limewater solution rather than the lime slurry that had previously been used.
Simon Hinsley, Birmingham Resilience Manager at Severn Trent, said: "The new plant uses the innovative approach of fully dissolving lime in solution to ensure consistent quality and dose rates at each of the lime dosing points on site, which is absolutely critical to ensuring the treatment processes are consistent and effective."
The new plant consists of a transfer pumping station to deliver process water for producing limewater; four lime silos with cross-connecting conveyors to maximise resilience; four glass coated steel batch tanks; dosing pumps and dosing lines; and a de-alkalisation plant to prevent calcium carbonate build-up in the process.
A significant cost saving was made to the project by using the existing sludge building on site to house elements of the limewater plant. This required two of the largest sludge presses in Europe to be removed from the building. Each weighed 60 tonnes and were supported on specialist jacking equipment while being cut and lowered in stages until the units could be fully dismantled and removed.
MWH Treatment was appointed to undertake the design and build of the new plant, with Severn Trent retaining responsibility for the process design. MWH then formed a joint venture with Costain to build on the latter company's experience of project delivery at Frankley WTW.
"This was a major project for us that involved considerable planning, major construction work on a working site and a number of important lessons learned," said Hinsley.
"But we managed to get everything finished sooner than originally planned, as well as using some pretty innovative techniques, such as virtual reality headsets from the gaming industry being used to allow operators to 'experience' the plant and to identify potential improvements in operation and maintenance.
"A 3D model was also loaded onto tablets to allow the O&M teams to have further flexibility when looking at ways to improve the design where possible."
When Frankley WTW was commissioned in 1904, the original treatment process consisted of sand filters. These have been replaced over the years with modern process plant to meet changes in demand, raw water quality and treatment standards. The new limewater plant is the latest update designed to keep water quality at its usual extremely high level. Further significant treatment upgrades are planned in AMP6 to enhance the resilience of the site and enable work to be undertaken on the Victorian-built Elan Valley Aqueduct.