Severn Trent engineer wins National Apprenticeship Award
Heeran Basi, an engineer apprentice at Severn Trent Water Ltd, has been named the PeoplePlus-sponsored Advanced Apprentice of the Year at the National Apprenticeship Awards at an exclusive ceremony at London's Grosvenor House.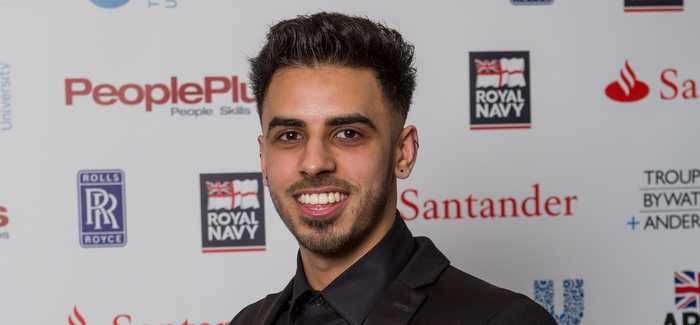 The awards, now in their fourteenth year, are run by the National Apprenticeship Service and recognise excellence in two areas: businesses that grow their own talent with apprentices and apprentices who have made a significant contribution to their workplaces.
Heeran Basi, aged 21 from Derby, is carrying out an Advanced Apprenticeship in Engineering – Instrumentation, Control & Automation. On a day-to-day basis, he shadows experienced engineers within the business to learn the key skills required to complete the role independently and helps Severn Trent Water Ltd with the recruitment of new apprentices.
On accepting the award, Basi said: "As an apprentice, I have combined my qualifications with on-the job training to learn the key skills and behaviours that will make me an asset to my company. I have been able to tailor my apprenticeship to suit my aspirations and provide me with all the tools I need to achieve my goals."
Skills and Apprenticeships Minister Anne Milton said: "The National Apprenticeship Awards ceremony is a great opportunity to celebrate the work so many individuals and employers have done to champion apprenticeships.
"I want to congratulate everyone that was a part of these awards for their contribution to apprenticeships in England. They are all fantastic advocates of hard work and ambition, and they highlight how apprenticeships are a great route into skilled employment for people of all ages and backgrounds."
Simon Rouse, Managing Director at PeoplePlus, said: "PeoplePlus are delighted to sponsor the Advanced Level Apprentice of the Year Award. As one of the UK's leading providers of Apprenticeship learning, we believe passionately in helping employers create highly skilled workforces and engaging our learners in a journey of lifelong learning and development.
"We are deeply proud to be associated with recognising those Advanced Apprentices that have shown outstanding commitment to their learning and in turn made a significant contribution to their workplace. The National Apprenticeship Awards are a celebration of success and commitment shown by everyone undertaking an apprenticeship. They recognise excellence in businesses that grow their own apprentice talent and apprentices who have made a significant contribution to their workplace. The awards inspire, celebrate and recognise success which helps to drive businesses and individuals towards the Prime Minister's challenge of three million apprenticeship starts by 2020.
"Everyone here tonight is celebrating success and should be extremely proud of their achievements. Our winner has to be congratulated for their dedication and effort to their apprenticeship and inspiring others to follow in their footsteps at the same time as making a significant contribution to their workplace."
Sue Husband, Director of the National Apprenticeship Service, added: "The National Apprenticeship Awards showcase the breadth of apprenticeships on offer in a range of dynamic industries across the country. Apprenticeships are for everyone and I thank every employer and apprentice celebrated for their passion for, and commitment to, apprenticeships.
"This year's winners are all shining examples of how apprenticeships develop outstanding talent whilst enhancing the incredible work of employers. I am certain all of our winners have a bright future thanks to the enriching benefits that apprenticeships bring."