Sentencing guideline will hit polluting utilities
Water companies convicted of offences where sewage escapes from the network into rivers or the sea will be affected by new guidelines published by the Sentencing Council (SC). According to the Sentencing Council, the guideline was necessary because magistrates in particular were unfamiliar with sentencing offences relating to the disposal and treatment of waste.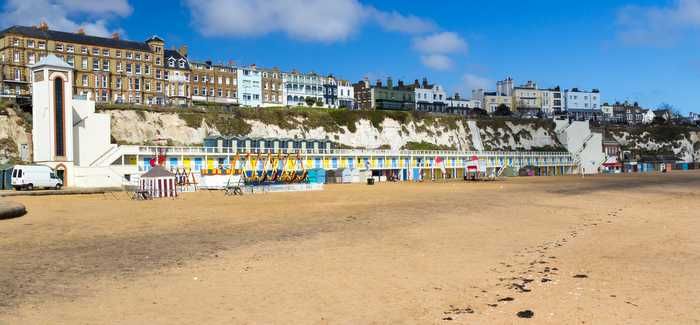 A beach in Thanet, Kent - Southern Water recently appealed against the sentence for a pollution incident in 2011, saying it was too high
The relevant offences are mostly covered by the Environmental Protection Act 1990 and the Environmental Permitting (England and Wales) Regulations 2010. Following their review of current sentencing practice, the Council concluded that the levels of some fines were too low and did not reflect the seriousness of the offences committed.
The SC says the new guidance aims to punish offenders, prevent reoffending and remove financial gain made through these crimes, while ensuring a consistent approach is taken by courts in England and Wales. It provides initial starting points and ranges of sentences to courts.
The guideline also includes the offence of passing injurious matter into the public sewers (under s111 Water Industry Act 1991), which should ensure appropriate sentencing when water companies bring prosecutions against those abusing their networks.
Fines for organisations, which range from £100 to £3M, are expected to take into account of their means as well as the seriousness of the offence. Penalty levels have  been changed to reflect turnover values in a move that aims to send a message to organisations and their shareholders, where they should have done more to prevent the offence. 
The SC said that this is the first time a guideline has been produced for such offences and that it encourages magistrates to make more use of the highest levels of fines for some of the more serious offences to come before the courts.
Sentencing Council member and magistrate Katharine Rainsford said, "Illegal disposal of hazardous waste not only causes damage to the environment but puts people's health at risk as well. This guidance for courts will help ensure consistent and appropriate sentences for offenders.
"These crimes are normally about making or saving money at the expense of the taxpayer. They also undermine law-abiding businesses in the waste management industry who are contributing to economic growth. This guideline aims to ensure that sentences punish offenders, deter reoffending and remove any financial gain."
Neil Dhot of utility trade body Water UK said: "Essentially, we knew during the consultation period that this was likely to be significant for the industry. We obviously now need to work though the detail of this to understand all the implications. However it is likely that this is going to be a step change compared to what has gone before."
Cairo Nickolls, an environment law specialist at Irwin Mitchell, said: "This is the first release of sentencing guidelines in relation to environmental offences by the Sentencing Council and it is very likely to lead to higher fines as a result.
"Businesses need to ensure that they understand the new sentencing framework and be aware that courts which are sentencing after 1 July 2014 will utilise the guidelines irrespective of when the offence took place. Although this is intended to create a consistent method of sentencing, it may actually result in a method of sentencing which is overly prescriptive.
"Businesses will be categorised by size, particularly turnover, and I expect there will be some level of ambiguity in relation to how the turnover of organisations will be established. In particular, I am concerned about the potential difficulty arising from sentencing a company which is part of a group of companies.
"The sentencing court will retain some discretion when sentencing. As well as turnover, the Court can also take into account the organisation's wider financial circumstances and whether any operational savings were made by committing the breach. The new guidelines are significant and highlight the need for organisations affected to seek expert legal advice as early as possible." 
The guideline will be used in courts from July 1, 2014. The Council will be carefully monitoring it for the first year it is in force to ensure it is being implemented as intended.