Sembcorp Bournemouth Water opts for Hydrant Wizard
Sembcorp Bournemouth Water (SBW) has invested in a Hydrant Wizard, which allows water supplies to be maintained when work is carried out on faulty or leaking fire hydrants.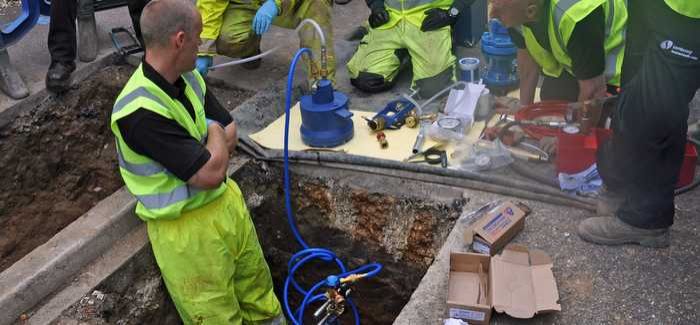 Staff are being trained to use the Hydrant Wizard
Staff are being trained in the new technique, which was trialled successfully on Bournemouth's East Cliff where a hydrant was replaced without affecting water supplies to domestic and business customers.
The Hydrant Wizard involves inserting a balloon into the water pipe which is then inflated. The inflated balloon acts as a plug stopping the water and allowing the hydrant to be removed without the need to turn off the water supply.
Until now, SBW would have had to interrupt supplies to potentially thousands of people while the work was being carried out.
Roger Harrington, SBW's managing director, said the new technique had a number of additional benefits: "It will reduce the number of site visits and the number of water company staff required to renew fire hydrants. Use of the Hydrant Wizard will also minimise the excavation required for hydrant replacements, and the disruption caused by prolonged road works.
"This is an excellent example of how investment in new technology benefits our customers and minimises the wider impact of essential maintenance work."
Fire hydrants are fitted in thousands of locations across the water network to allow the fire and rescue services to obtain water essential for fighting fires. The hydrants have a finite life and need regular maintenance.