SDS and Asset International in SuDS production deal
SuDS supplier SDS Limited has entered into a partnership with off-site build specialist Asset International to step up UK manufacturing of sustainable drainage systems in response to demand.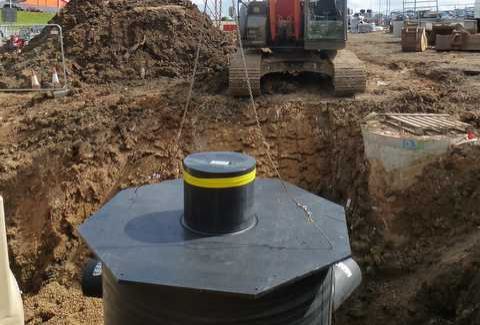 An SDS Aqua-Swirl being installed
Increasing local authority planning requirements for compliant Sustainable Drainage Systems (SuDS) in major developments is boosting demand for water quality treatment components, prompting supplier SDS Limited to establish a UK manufacturing base to service its growing order book.
Increasing sales of the SDS Aqua-Swirl hydrodynamic vortex separator, used to remove polluting silts and sediments from surface water runoff as part of SuDS, have prompted a new partnership between SDS and the off-site build specialist Asset International.
The innovative technology of the Aqua-Swirl was introduced by SDS to the UK market in 2015 and its new sister high-performance filtration system the Aqua-Filter was added to its range last year. Production of both devices has already begun at Asset's state-of-the-art fabrication plant in Newport, using Weholite HDPE components, and the first products have been delivered to site.
The arrangement has more than halved the delivery times to SDS customers as well as providing more opportunity to engineer bespoke components to meet the precise requirements of a drainage design.
SDS Sales and Marketing Director Richard Averley said: "SDS has a well-established reputation among contractors for making it easy and affordable to install compliant sustainable drainage schemes. The SDS Aqua-Swirl's lightweight, plastic construction and large choice of sizes already make it a popular choice.  Now contractors can expect even quicker delivery and the opportunity to specify bespoke piped connections to fit the drainage layout on site, thanks to Asset's superior pre-fabrication facility and the benefits of the Weholite product."
Since April 2015, the National Planning Policy Framework (NPPF) has required SuDS to be included in major commercial and housing developments in England. Consulting engineers and drainage designers are encouraged to follow guidance in CIRIA C753 The SuDS Manual to design compliant drainage schemes.
"We expect demand for water quality treatment devices to continue to grow, now that the Government has committed to building more SuDS as part of its 25-year Environment Plan, as well as further strengthening the NPPF to include a requirement for SuDS to be multifunctional," Averley continues.
"Our experience shows that designers, developers and contractors need our technical support to deliver practical, affordable schemes that comply with The SuDS Manual. For example, the introduction in the Manual of a pollution mitigation index for vegetative SuDS components, such as swales and ponds, has posed a challenge for engineers because no direct alternative is provided for manufactured components. We have been able to provide a reliable equivalent performance index for our products, that our customers have welcomed."
Simon Thomas, Managing Director of Asset International, added: "Asset International has more than 35 years' experience of delivering UK manufacturing excellence in drainage and pipework products. So, we are delighted to be partnering with SDS Limited to provide a home base to meet the growing demand for stormwater treatment products."
"The Aqua-Swirl and Aqua-Filter will bring substantial benefits to water attenuation and infiltration projects all over the UK, providing greater design flexibility and more effective removal of sediments than comparable systems."
The SDS Aqua-Swirl uses vortex separation technology to remove gross pollutants, floating oils and debris from surface water runoff and prevent it entering the natural environment.  The device can also be used upstream of ponds, wetlands and basins to prevent silting and reduce maintenance. Aqua-Swirl removes up to 80% of suspended solids, can store up to five tonnes of contaminated sediment and is easily emptied with a standard vacuum tanker.
On challenging sites, the SDS Aqua-Filter is deployed as a down-flow filtration device and used in a treatment train together with the Aqua-Swirl, to deliver reliable removal of suspended solids and soluble pollutants, including small suspended particles, nutrients, heavy metals and hydrocarbons. It can treat flows of up to 160 l/s in a small footprint.