Screw pump manufacturer appoints UK agent
A leading European manufacturer of Archimedes screw pumps has appointed ECS Engineering Services as the exclusive agent for its screw pump related products in the UK. Landustrie, which is based in the Netherlands, designs and supplies screw pumps.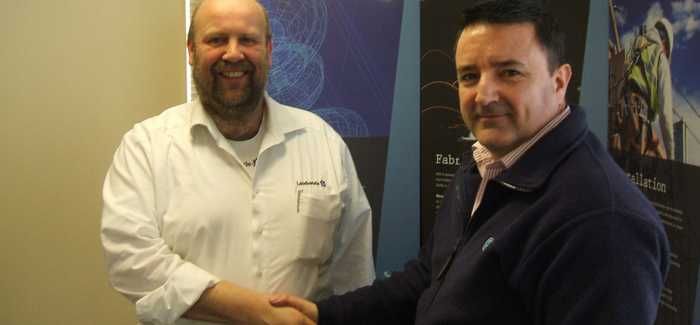 Arie Van Steen (left), export manager of Landustrie, seals the deal with Gary Jordan, managing director of ECS Engineering Services
ECS has 20 years of experience working with utilities and the Environment Agency. The appointment also includes the service and repair of all existing Landustrie screw pump equipment, which is supported by the network of ECS engineers, on call 24 hours a day, all year round.
Jamie Wesley, operations manager at ECS, said: "This partnership will be able to deliver a great service to our clients. Landustrie has an excellent reputation for reliability and quality engineering which fits extremely well with our engineering resources and capacity to deliver bespoke installations."
Arie van Steen, export product group manager at Landustrie, said: "The ability of ECS to be able to deliver a complete installation from the drawing board to final hand-over, as well as the capacity to provide maintenance support, will ensure that our customers, both past and future, will receive the service and the performance we expect from our products."
ECS and Landustrie say they are able to provide engineering support for all other manufacturers'screw pump equipment including Jones & Attwood, which was originally manufactured by Landustrie.