Scottish Water to invest £3.5B over six years
Scottish Water has announced that it will invest £3.5B over the next six years in its improvement programme.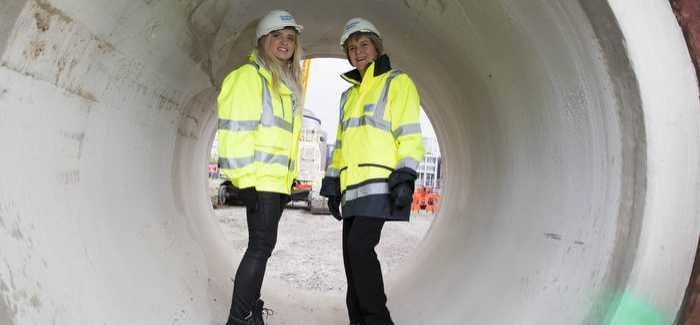 Scotland's deputy first minister Nicola Sturgeon (rt) with Scottish Water apprentice Courtney Mitchell
The programme of work, which runs between 2015 and 2021, will include more than £280M in improvements to water mains and water treatment works. Over £100M will be spent on a Glasgow wastewater tunnel to improve water quality in the River Clyde and reduce flooding. A further £60M will go on works to reduce the impact of discharges to the River Clyde from Daldowie and Dalmarnock Wastewater Treatment Works, and £45M will be spent on tackling external sewer flooding issues.
Deputy first minister Nicola Sturgeon announced the programme, which is being supported by £720M in borrowing from the Scottish government. She said the company was expected to deliver on the investment without raising customer bills above the level of inflation.
"Water and sewerage services are vital to our everyday lives," said Sturgeon. "It is important that we continue to invest to ensure that these keep on meeting the needs of customers, the environment and economic development.
"I recognise that households and businesses are under financial pressure.
"That is why I expect Scottish Water to continue to deliver this £3.5B investment programme without the need for inflation-busting charge increases."
The six-year programme of work is expected to support 5000 jobs in the construction sector, according to the publicly-owned company. Earlier this year Scottish Water appointed two 'alliance partners' - Caledonia Water Alliance and BBV Alliance - who will oversee and deliver most of the work and manage the appointment of contractors.
Scottish Water chief executive Douglas Millican added: "I am delighted that we are announcing the start of this major investment programme for 2015-21 which will enable Scottish Water to continue to provide first-class customer service, while supporting the Scottish economy and creating jobs in the construction industry."
Meanwhile, an exemption scheme which helps the charitable sector to pay for their water and sewerage services is to be extended, the Scottish government said.