Scottish Water tells customers in Moray to use water wisely
Scottish Water has urged its customers in Moray to use their water wisely due to prolonged dry weather in the area.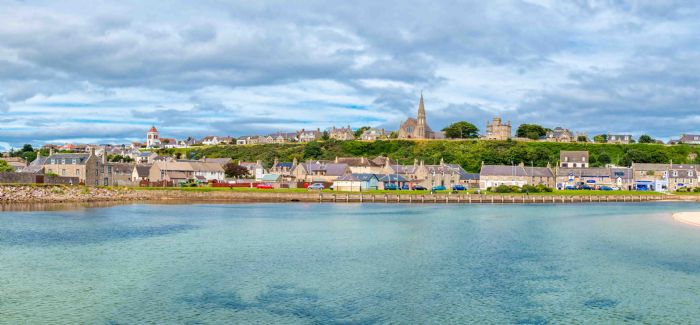 Lossiemouth is among the areas being urged to conserve water
Moray MP Douglas Ross said it was a "very unusual request" for the area, in North-East Scotland, but expressed his support.
Scottish Water said that despite some recent rainfall, the dry conditions and increased demand in the area meant it needed to encourage customers served by the Badentinan Water Treatment Works to take water efficiency measures.
It suggested that customers in Elgin, Kinloss, Forres, Burghead, Lossiemouth, Rothes, Fochabers, Dufftown and Craigellachie use a bucket instead of a hose to wash cars and a watering can instead of a hose to water gardens, among other measures. Businesses have also been asked to consider where they can cut back on usage.
Peter Farrer, Scottish Water's chief operating officer, said: "We are encouraging everyone living and working locally to take simple steps to use water wisely. By doing so, we can significantly reduce water usage which also helps the environment, saves energy and ensures that we continue to provide clear, fresh water to customers in the area."
Ross said it was important that customers followed the recommendations. 
"Here in Moray we are used to getting a fair bit of rain, so this is a very unusual request, but after the weeks of dry weather it may not come as too much of a surprise," he said on his official website. "However, I would urge people around the area to take account of what Scottish Water is saying.
"We have had some fantastic sunny weather recently, but the downside is that we haven't had the rain, which leaves the water treatment works serving Moray with low supplies.
"We are not being asked not to use water, but to look carefully at how we use it to preserve stocks during the summer months to give them a chance to be topped up again. Nobody wants to be in a situation where we have restrictions on use.  
"Lack of rain might seem a bit of an alien concept to us up here in Moray, but we can all take simple steps to use water more efficiently." 
The Press and Journal also quoted Elgin City North councillor Maria McLean as saying: "We're blessed with an abundance of this natural resource here so I think many residents will be shocked to hear Scottish Water asking customers to reduce water usage."