Scottish Water spends £120M on Ayrshire water mains scheme
Scottish Water is investing £120M to improve the water supply network by installing 30 miles of new water mains to connect the system in Ayrshire with the Greater Glasgow area's network. More than 200,000 people and businesses in much of Ayrshire and parts of East Renfrewshire will benefit from the investment.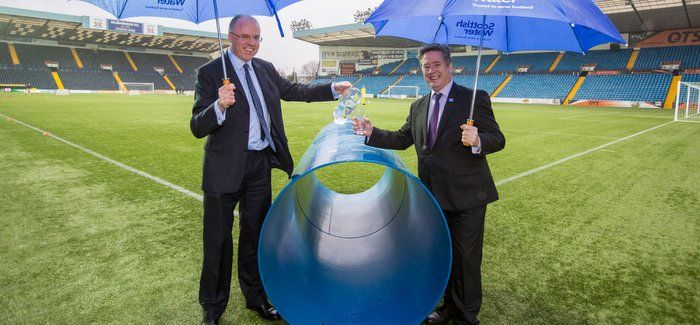 Scottish Water chief executive Douglas Millican (left) with Scottish cabinet secretary for Infrastructure Keith Brown
Customers across a large part of Ayrshire currently receive their water from a single source, the Bradan Water Treatment Works, south of Straiton in South Ayrshire. The water is supplied to customers' taps via a 34-mile-long trunk water main installed about 50 years ago from the Bradan WTW to the north of Irvine.
The construction of about 30 miles of new strategic water mains, which is expected to take about four years, will connect the Bradan water supply network to the network served by the Milngavie and Balmore water treatment works, north of Glasgow.
When complete, the investment will enable Scottish Water to transfer water from Glasgow to Ayrshire, and vice-versa, if required. This will create a larger, more robust and connected supply zone that will benefit customers in areas such as Ayr, Prestwick, Kilmarnock, Troon, Irvine, Fenwick, Galston, Stewarton, Hurlford, Maybole, Eaglesham and Newton Mearns.
Another key part of our investment will deliver improved water quality to about 56,000 people as the existing water supply from three small water treatment works in East Ayrshire and East Renfrewshire is replaced with water supplied from the Glasgow network.
Douglas Millican, Scottish Water's chief executive, said: "This major strategic investment scheme, which will deliver a more resilient water supply network for Ayrshire, is the first stage in our investment to improve connections between water supply networks across Scotland. We have invested significantly in improvements to water quality in parts of Ayrshire in recent years and now, as proposed in our strategic projections, we will improve much of the area's water supply resilience by creating a new link between the supply systems.
"The investment in new pipelines and associated infrastructure below ground will support the continued development above ground in communities across these areas and will enable them to continue to grow and thrive."
Keith Brown, cabinet secretary for Infrastructure, Investment and Cities, said: "This investment is key to ensuring that high quality drinking water can continue to be supplied to customers today and for generations to come.
"High quality drinking water is fundamental to public health and sustainable economic growth. This is why the government fully supports Scottish Water's drinking water investment programme. Over the next six years, over £500M per annum will be invested to further improve water and wastewater services across Scotland."