Scottish Water solar project uncovers lost WW2 shelter
Work to install one of Scottish Water's largest solar panel projects to date, at a wastewater treatment plant in Montrose, has unearthed a lost piece of military history.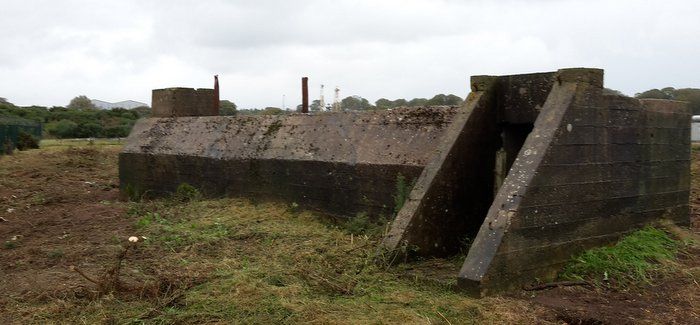 The air raid shelter at Montrose was hidden behind the undergrowth
Scottish Water Horizons, a wholly owned subsidiary of Scottish Water, which is driving forward the organisation's green agenda, were working on the installation of the panels on land at the treatment plant.
The utility's solar PV installation framework contractors, Absolute Solar and Wind Ltd, worked on the project.
And while cutting back shrubbery during the early stages of the installation, they were surprised to discover a preserved air raid shelter from World War 2, which was originally part of the former RAF Montrose site.
Scottish Water Horizons Project Manager, Mari Davies, said: "The site, which sits just back from the beach at Montrose in Angus, was overgrown and we had to do a bit of work first to remove the dense shrubbery.
"Having liaised with the local council, we knew that in the past the area could have been home to munitions and radioactive material, all remnants of the Second World War.
"Thankfully nothing hazardous was uncovered which meant we were able to carry on with the work. 
"However once we'd cleared the land, we made the unexpected discovery of a WW2 air raid shelter.  Although an interesting find, it did mean we have to alter our plans slightly to fit round it.
"The treatment works also sits on part of what was RAF Montrose which is said to be haunted by the ghost of Lieutenant Desmond Arthur, a pilot who crashed there in 1913," Davies continued. "There have been many sightings of him over the years, but luckily none of our contractors had any paranormal experiences!
"Ghosts aside, the installation went without a hitch, and the team were careful to work around the operational needs of the site, meaning we were able to work without interruption."
 "We collaborated closely with teams across Scottish Water to ensure the finished solar panels looked really smart. The site is visible to the public, so it was important that the visual impact of the scheme was taken into consideration."
The project, Scottish Water Horizons' largest to date, will offset around a fifth of the works' energy consumption, generating around 240,000 kWh a year.
The team are actively looking for new Scottish Water sites which could benefit from similar schemes to help offset high energy use and reduce operational costs. One is already set up in the nearby area in Brechin.