Scottish Water saves Calgary nearly £15M a year
Scottish Water's international arm has made recommendations that could save Canada's City of Calgary up to £14.8M a year. The recommendations came as the five-strong team of consultants from the Dunfermline-based utility completed its second major assignment in Calgary, having spent a year reviewing the city's Water Resources business unit.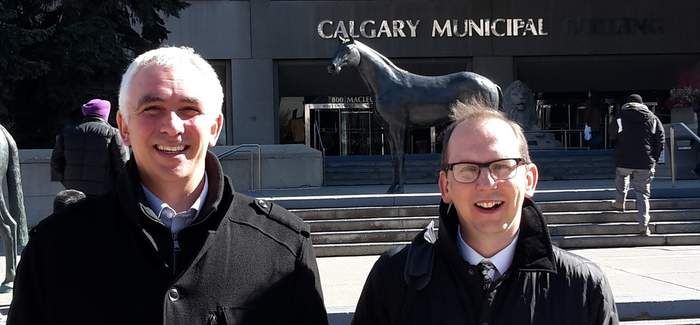 L-r: Scottish Water€™s Jim Conlin and John Carty
Principal consultant John Carty, who led the team in Calgary, said: "Our focus was Calgary's Water Resources business unit, which covers asset management and delivers upgrades and new water infrastructure for the people of the city. We made 17 key recommendations across customer engagement, wastewater service levels, management of capital investment and the application of capital delivery models.
"These recommendations will help realise significant efficiencies, as well as improved customer experience, enhanced data quality and leaner processes for improved decision making.
"Many of these recommendations are scalable, meaning they could help other infrastructure investment and capital programmes across the city generate efficiencies of their own."
This latest assignment follows a review in 2014/15, which saw a team of Scottish Water consultants focus on the Calgary unit's day-to-day operational activities, identifying efficiency savings up to CAD$5M (£3.07M)."
Rob Spackman. of Water Resources, of The City of Calgary, said: Scottish Water's utility experience and first-hand knowledge provided a solid foundation and unique perspective to assess the service efficiency and effectiveness of Calgary's capital program delivery. Their emphasis on placing the customer at the heart of what they do was reinforced not only throughout the consultation process, but also within their customer focused recommendations, which will help guide how we engage and work with our customers.  The utility is excited by this shift in focus, realising the value that working with customers to develop levels of service that meet their expectations will bring to both the water utility and the overall customer experience."
In the past year, Scottish Water has also secured contracts with clients in South and Western Australia, offering specialist consultancy services to clients keen to learn about Scottish Water's journey into an efficient publicly-owned service provider.
Ken Hutchison, managing director of Scottish Water International, said: "The successful delivery of the Calgary contract is a clear demonstration of how, using the skills and expertise of Scottish Water employees and our experience of transforming the delivery of water services in Scotland, we can help international clients raise standards and reduce costs."