Scottish Water progresses transformational Glasgow project
Scottish Water is progressing well with its project to transform Glasgow's wastewater infrastructure and modernise a host of assets dating from Victorian times.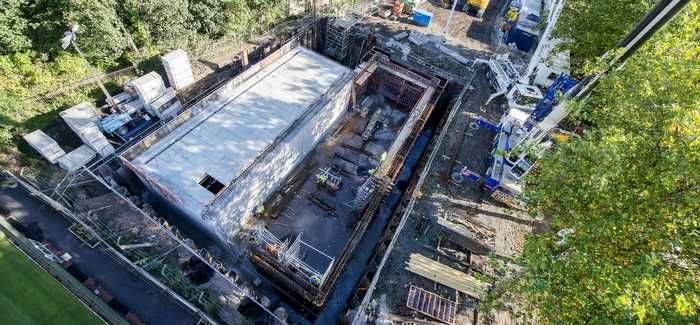 Sewer replacement at Grampian Place, Glasgow, one of many projects in the programme
The utility says it is now more than half way through what will be the biggest investment in the Greater Glasgow area's waste water infrastructure in more than a century, with work progressing every day on the network across Glasgow, West Dunbartonshire, East Dunbartonshire, Renfrewshire and East Renfrewshire.
The £250M, five-year programme of work is aimed at creating a modern, integrated and sustainable drainage system that will improve the environment and biodiversity on the River Clyde and its tributaries, while helping tackling flooding and the effects of climate change.
Starting in 2013, the investment followed years of collaboration and studies by the Metropolitan Glasgow Strategic Drainage Partnership (MGSDP), whose members include Scottish Water, the Scottish Environment Protection Agency (SEPA), Glasgow City Council and Scottish Canals.
Scottish Water's investment includes upgrades to about 200 Combined Sewer Overflows (CSOs) on the River Clyde and tributaries such as the River Kelvin and White Cart Water at a cost of about £105m.
A total of 128 of some 222 CSOs dotted across the Greater Glasgow area have now been completed.
The investment also includes a number of key projects to tackle flooding at a cost of about £45M and waste water improvements in the south west of Glasgow to remove excess surface water from areas with known "pinchpoints" which cause restrictions in the system.
The flooding investment includes completed projects such as improvements to sewer capacity in the Shettleston area of Glasgow, which has reduced the risk of flooding in Strowan Crescent, and a project to tackle flooding which has affected more than 60 properties in the Shafton Road area of Temple in Glasgow.
It also includes an ongoing £12.4M project to tackle flooding in Elmvale Row in Springburn, which started in April.
Other key flooding projects and work to improve river water quality are under way in areas such as Cathcart, Paisley, Yoker, Clydebank and Bearsden, with more in the pipeline.
The value of investment already completed is about £100M or 40% of the total £250m in the five-year programme.
This includes improvements ahead of the 2014 Glasgow Commonwealth Games, such as flooding projects and overflows at Dalmarnock and Glasgow Green, which reduced the risk of problems on our network.
Geoff Aitkenhead, Scottish Water's asset management director, said: "We're making good progress with this massive investment in Greater Glasgow's waste water infrastructure, the biggest in living memory.
"As we speak, we are pressing ahead with many key projects simultaneously across the area.
"The environment and communities throughout Greater Glasgow will benefit hugely from this because it will protect the natural environment and meet the needs of growth, economic development and regeneration. It will also support jobs and employment opportunities, including a number of apprenticeships.
"Some major projects have already been completed and the preparatory work for others is well under way."
By far the biggest project in the programme is the £100M Shieldhall Tunnel, which will resolve large-scale water quality problems in the River Clyde and its tributaries and provide aesthetic screening to overflows into watercourses such as tributaries of the Clyde and White Cart Water. It will increase capacity and alleviate pressure on the existing network by providing additional storm water storage.
Preparatory work, including mine working consolidation and utility diversion work, started in mid-2014.This is continuing with specialist piling work for the first shaft of the tunnel, the service chamber and the TBM launch chamber using a 60-tonne, 20 metre high crane and two 100-tonne piling rigs which, at 28 metres high, are as tall as the high-rise Jura Court flats nearby.
The tunnel will head northwards under Pollok Park and beneath the M77 and then beneath Bellahouston Park, terminating at Craigton industrial estate where it will join the existing network and where waste water will flow onwards to Shieldhall Waste Water Treatment Works (WWTW), which serves up to about 585,000 people and is the biggest in Glasgow.