Scottish Water picks two consortia as its SR15 infrastructure partners
Two joint ventures, Caledonia Water Alliance (CWA) and BBV Alliance, have been announced as Scottish Water's infrastructure partners for its SR15 2015-2021 investment period. CWA will deliver £360M of investment in the water infrastructure, while BBV will undertake the £340M spend on the wastewater infrastructure.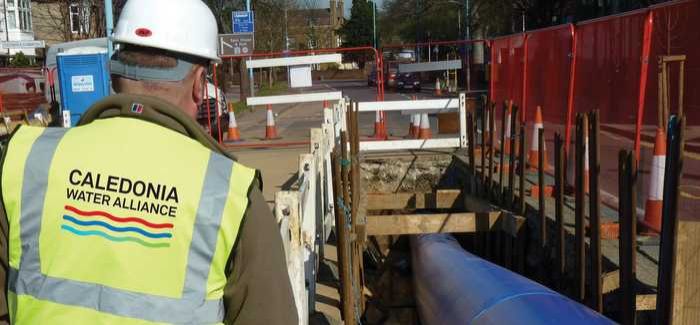 The alliances will deliver upgrades, maintenance and infrastructure assets in Scotland
The Caledonia Water Alliance is a partnership between Morrison Utility Services and AECOM, and the BBV Alliance comprises Black & Veatch and Amey subsidiary Byzak. They will deliver upgrades, maintenance and new infrastructure assets in Scotland. An element of two consortia's programme of work will be self-delivered and the remainder delivered through contract partners.
The alliances are now working with Scottish Water to procure Tier One suppliers to help deliver the programme.
Geoff Aitkenhead, Scottish Water's director of asset management, said: "We had a large number of interested parties keen to work with Scottish Water on our next investment programme. Following a diligent and extensive procurement process the Board of Scottish Water has selected two alliance partners.
"This is the first stage of ensuring we have the right partners, with the right skills, to help us deliver the next stage of our continuing investment which is delivering real benefits to our customers while supporting the economy and jobs in Scotland."
Aitkenhead added: "We are building strong relationships with our alliance partners which I believe will last beyond 2021. This is good news for our customers as these infrastructure partners will help us deliver the benefits to Scotland in an economical and efficient way, while supporting jobs, in particular giving great opportunities to young people through apprenticeships and graduate programmes."
Charles Morrison, Chief Executive, Morrison US, said: "We are delighted that the Caledonia Water Alliance has been chosen as preferred bidder by Scottish Water to support the delivery of the water infrastructure element of its capital investment programme. This joint venture with AECOM will provide Scottish Water with a fully integrated business model which is ideally structured to support Scottish Water's relentless focus on driving up standards in safety, customer service, efficiency and innovation." 
Graham Howells, managing director of AECOM's water practice in EMEA, added: "We are looking forward to supporting Scottish Water and contributing to the successful delivery of its capital investment programme. This is another major appointment for our water business in the UK and further underpins our mission to be the leader in the market.
"We have an excellent track record of working with Morrison Utility Services and are confident that together we can set a new benchmark in market-leading solutions for Scottish Water."   
CWA and BBV will employ apprentices and graduates through the programme, said Aitkenhead. Caledonia Alliance has committed to 20 modern apprentices and seven graduates, and BBV has committed to 30 modern apprentices and 18 graduates.
In addition to the Tier One procurement process, Scottish Water is also holding market days in communities across Scotland to identify delivery partners to support the water and wastewater alliances and its operations teams. These rural framework market days will help identify contract partners who can be part of a capital maintenance programme estimated to be around £500M over the six years.
Market days are confirmed for Sumburgh, Kirkwall and Inverness to take place next week. Plans are also in place for market days in Stornoway, Pitlochry, Dumfries & Galloway and the Scottish Borders for late February and early March.