Scottish Water invests in Mull's water infrastructure
Scottish Water has embarked on a £5.7M investment programme that will see major improvements to the water infrastructure on the island of Mull, providing clearer, fresher drinking water in the Craignure area. The project will also enable growth and meet demand during peak summer months in the Tobermory area.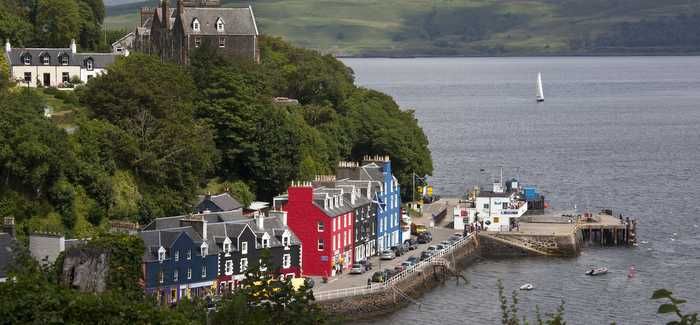 The increase in WTW capacity will enable future development in Tobermory
The first stage of the project involves installing more than 11 miles of 6" diameter water main from Salen to Craignure and will provide better quality drinking water, and greater security of supply, to about 220 people in the Craignure and Lochdon areas.
These customers, who currently receive their water from the Craignure Water Treatment Works, will have their source of supply changed to the Tobermory WTW, which is to be upgraded as part of Scottish Water's investment. Customers will receive their water from this new stretch of main.
At the moment, the Tobermory water supply zone ends at Salen. The extended water mains will go to a new Craignure Service Reservoir to be built near the existing WTW above the village.
The upgrade of the Tobermory WTW, which serves 1,350 people in Tobermory and Salen plus the many visitors to the area, will involve improvements to the existing treatment process, which will increase capacity.
This will mean the WTW will be able to treat more water and so improve the security of supply, particularly during the summer when demand increases due to the number of tourists and visitors in the area.
The increased capacity of the WTW will also allow for future development in the Tobermory and Craignure areas. A new storage tank at Tobermory will increase local storage.
Paul Morley, Scottish Water's Water Operations team manager, said: "This is one of the most important projects Scottish Water has embarked on in Argyll and Bute and we know that customers and businesses on Mull will welcome the long term benefits of these major improvements to our infrastructure.
"The project follows a strategic review by Scottish Water of options to tackle water supply and growth issues on the island and we are delighted to be starting this important work."
The project is being carried out for Scottish Water by contractor Expanded, which is part of Laing O'Rourke, and is expected to take 18 months to complete.
Scottish Water recently completed a temporary upgrade to the filtration process at Craignure WTW, which is helping to provide better quality drinking water in the area in the interim.