Scottish Water investigates in Paisley
Investigative work in White Cart Water in Paisley is to be carried out by Scottish Water ahead of investment to improve the natural environment of the river. A rig will be used to drill boreholes at five locations on the White Cart between Abbey Bridge and St James' Bridge in Paisley town centre, and is expected to take about six weeks to complete.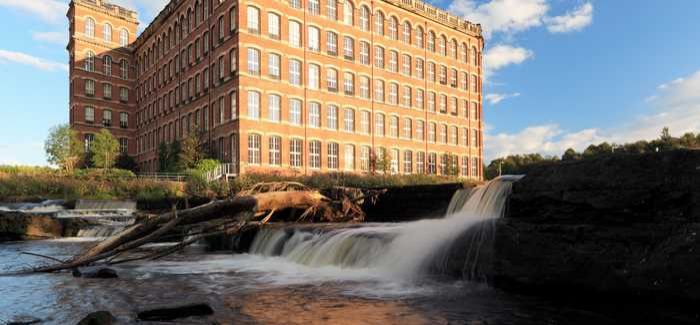 Boreholes will be drilled in the White Cart to extract soil and rock samples
The rig, shaped like a large tripod and about 3m high, will sit on a floating plastic pontoon that will be anchored to the river wall. A 100mm diameter tube will be used to extract samples of soil and rock that will be analysed to establish ground conditions along the route of a new wastewater pipeline, which will be installed when the main improvement work begins.

The improvement work, which will also benefit the Espedair Burn and the River Clyde, forms part Scottish Water's major investment in the Greater Glasgow area's wastewater infrastructure announced last year. The work on this stretch of the White Cart Water is expected to start late this year and details of this investment will be confirmed in due course.
The overall £250M investment, the biggest in the Greater Glasgow area's wastewater network in more than a century, will improve river water quality and the natural environment of the River Clyde and its tributaries, enable the area to grow and develop, alleviate sewer flooding and deal with the effects of increased rainfall and climate change.

The investigative work will be carried out for Scottish Water by contractors Raeburn Drilling.
Mark Maclaren, Scottish Water's regional community manager, said: "Scottish Water's investment in the area will deliver major environmental benefits for years to come and details of this work will be made available when we are about to start the project. This investigative work we are starting now is a key part of our preparations for the project."

Meanwhile, Scottish Water is progressing with an £850,000 project to improve another stretch of the White Cart Water in Paisley. Contractor George Leslie is constructing a new Combined Sewer Overflow (CSO) with associated pipework and manholes in the grassed area opposite the junction of Claverhouse Place and Catha Crescent and adjacent to the footpath leading to Jenny's Well Nature Reserve.
The work, which started in November and is expected to be completed shortly, will reduce the amount of debris spilling into the river.