Scottish Water gets blockage message across on council bin rounds
Scottish Water and Perth and Kinross Council have joined forces to try and help prevent sewer blockages across the region.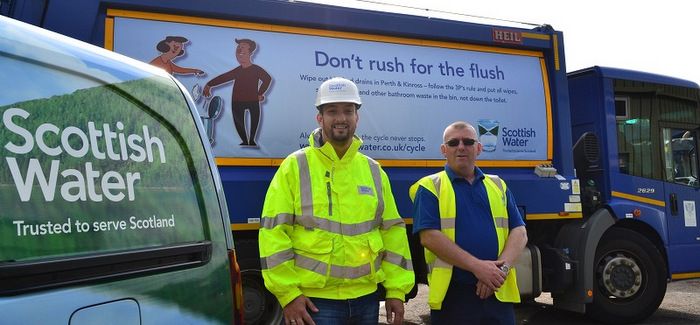 As council workers make their rounds to empty bins across the area, refuse collection vehicles are carrying two important messages about simple things that everyone can do in the bathroom and kitchen to play their part in keeping the network of drains and sewers which service communities across the area clear.
Five refuse collection vehicles feature Scottish Water eye-catching Cycle campaign messages which encourage householders and businesses to appropriately dispose of items which can cause blockages.
Scott Fraser, regional corporate affairs manager at Scottish Water said: "In the first six months of this year we've attended the equivalent of around two blocked drains and sewers every day in Perth & Kinross, so we are delighted to be working with Perth & Kinross Council Waste Services team on this. We hope that having these messages on five of the council vehicles, which provide the refuse collection services in Perth, Crieff, Blairgowrie and Pitlochry, will help raise awareness throughout the local area of how everyone should properly dispose of bathroom and kitchen waste items.
Mark McEwen, general manager for customer service at Scottish Water said: "Across Scotland our teams attend around 37,000 blocked drains and sewers every year, which can cause flooding. Around 80% of these blockages are caused by either inappropriate items being put down the toilet, or fat, oil and grease being put down the sink.
 "We believe the best way to tackle this is to work together and that's why teaming up with Perth and Kinross Council allows these messages to be seen by thousands of people across the area, and will hopefully help to reduce the number of blocked drains and sewers across Perth & Kinross into the future.