Scottish Water fined for Purgatory Burn pollution
Scottish Water has been fined £12,000 fine by Glasgow Sheriff Court after pleading guilty to a series of uncontrolled sewage discharges into the Purgatory Burn near Kirkintilloch between March 6 and June 25, 2013.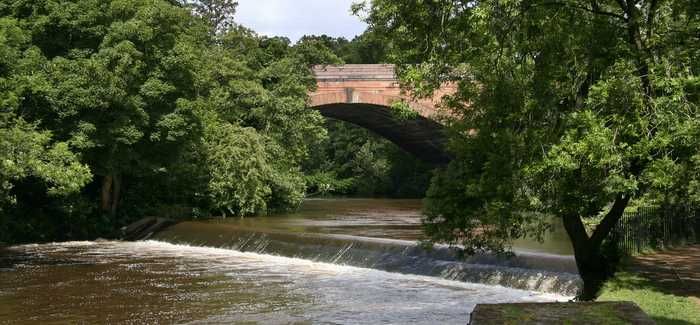 A dark plume of contaminated water was seen entering the River Kelvin
Officers from the Scottish Environment Protection Agency (SEPA) were alerted to the pollution incident by a member of the public, who noticed sewage along a stretch of the watercourse between an industrial estate and the River Kelvin, of which the burn is a tributary.
An inspection found contaminated debris along a 180m stretch of the stream bank, in addition to an odour of sewage and water discolouration. Sewage fungus was also observed on the riverbed and a dark plume of contaminated water entering the Kelvin.
SEPA reporting officer Barry O'Connor said: "The detrimental impact on the Purgatory Burn and River Kelvin as a result of the sewage has been significant, with evidence gather by our ecology team indicating the watercourse had become grossly polluted at the time of the incidents.
"The steps taken by Scottish Water in response to each discharge were reactive only, and while clean-up operations took place on several occasions, no permanent solution was found to stop further sewage discharges reaching the Burn. 
"Our officers took the appropriate enforcement action which lead to this fine, however we hope that this sends out a clear message, not only to Scottish Water, but also to other operators that pollution will not be tolerated."
A spokesman for Scottish Water told wwtonline: "We have carried out substantial work to reduce the risk of pollution at this location and will continue to monitor and regularly check our infrastructure there.
"In the event of any problems, such as a blockage, we will clear it, carry out any necessary repair and clear any debris as quickly as possible."
SEPA said as a result of the case, Scottish Water has agreed to enhance the wastewater network in the area as part of its next investment period. The Scottish Water spokesman told wwtonline: "We are developing a capital scheme that is required to provide a long-term solution. Due to the scale of the work required, the situation cannot be resolved immediately.
"Investment is planned for delivery early in the next investment period of 2015-21."