Scottish Water completes largest solar panel project to date
Scottish Water has unveiled its largest solar panel project to date in Speyside, the heart of Scotch whisky country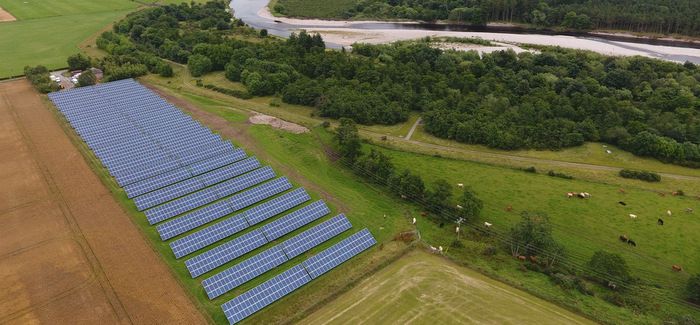 Scottish Water Horizons (SWH), a wholly-owned subsidiary of Scottish Water, is driving forward the organisation's green agenda having recently installed 4,800 photovoltaic (PV) panels at two adjacent borehole sites in Speyside.
As well as being Scottish Water's largest to date, the PV scheme is also the biggest investment so far by SWH in this renewable technology.
The £1.2M installation, which was carried out by contractor Absolute Solar and Wind, will see both sites generate a total of 1GWh of energy per annum whilst saving 437 CO2eq tonnes of carbon every year.
The installation will also offset more than a fifth of the borehole sites' electrical needs annually.
The PV panels, which were installed on Scottish Water land, will help provide power to pump water to the nearby Badentinan water treatment works.
Ian Piggott, SWH project delivery manager, said: "This £1.2M project has taken around three months to complete on site from start to finish. Our construction phase started in early June this year, with some works starting a month later due to the presence of badgers in the vicinity of site. However, we managed our programme such that there was no negative impact on our overall delivery timescales.
"Absolute Solar and Wind, installed 2,900 panels at the north borehole site, and 1,900 at the south borehole. These are now in operation and will generate renewable energy long into the future."
Graham Provest, managing director of Absolute Solar and Wind, said: "This particular installation had some challenges with grid connectivity that were overcome by our highly skilled technical team. We look forward to future projects and to contributing to a low carbon Scotland."
John Sammon, project manager with SWH, said: "The PV panel scheme in Speyside is the largest we've undertaken to date, but it's just one of many across Scotland that are already generating clean, renewable energy to help power our assets and keep customer bills down.
"As well as using solar energy, Scottish Water Horizons are also harnessing renewable energy from Scottish Water assets using different methods, including food waste recycling and recovering heat from waste water. Going forward we're committed to capturing the commercial opportunities that Scottish Water assets provide to help Scotland's economy and environment thrive and improve."