Scottish minister commends water development facility
Scotland's environment minister has praised a "vital" water development facility that will "accelerate the arrival of new technologies".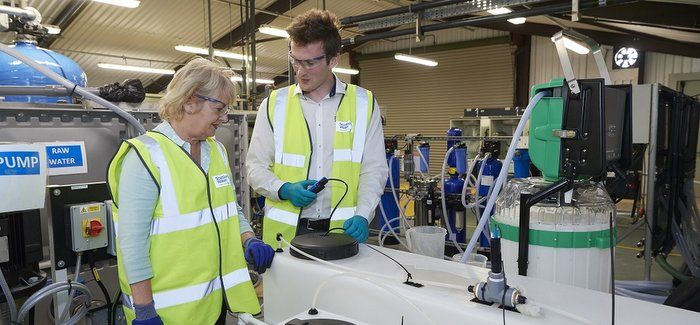 Roseanna Cunningham at the facility in Gorthleck
Roseanna Cunningham visited the centre at Gorthleck, near Inverness, recently to hear about the work carried out at the facility and its contribution to the water industry.
The former water treament works was transformed into a development centre to allow companies to test new equipment, products and processes on an operational scale.
Technologies are developed in a "live environment" which mirrors real life circumstances. Tested technologies are not connected to the public water supply.
"Gorthleck is a vital new facility for Scotland's water industry businesses and will help improve how we manage our water resources in future and accelerate the arrival of new technologies into the domestic and export markets," said Cunningham.
"It's a fine example of what can be done with collaborative, forward thinking," she added.
Gorthleck was one of two technology testing and development facilities that opened in 2015, following a £1.6 million grant from the Scottish Government.
"The test facilities enable real-time, hands-on collaboration between businesses. Academia and the public sector to encourage new opportunities and knowledge sharing," said Paul Kerr, head of Scottish Water Horizons, which manages the site.
Research at the site has focused on potable water treatment for rural communities and nutrient recovery. Large-scale testing has also been carried out on projects ranging from energy dissipation to membrane technology to optimise water treatment works performance.
"Water is fundamental to our health, environment and—increasingly—our economy," said Cunnigham.
-This article first appeared on Utility Week.