Scottish deal to roll out sewage heat recovery technology
Scottish Water Horizons, the commercial subsidiary of Scottish Water, has announced its intention to form a strategic alliance with SHARC Energy Systems to expand and accelerate the deployment of sewage heat recovery systems around Scotland.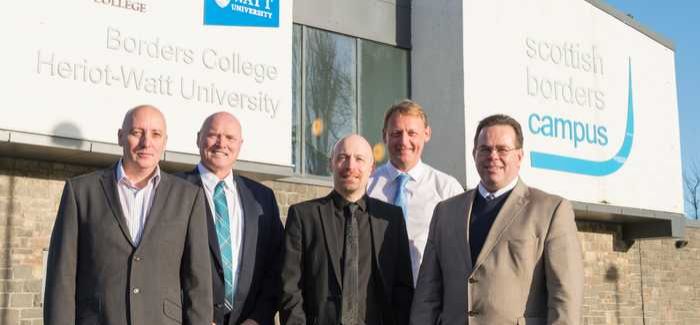 The first SHARC sewage heat recovery system in the UK was installed at Galashiels last year
The firms are joining forces to offer businesses and public organisations the technology, which is able to reduce heating costs and carbon emissions at large premises. The technology works by heating the wastewater from sewers with heat pump technology to amplify the natural warmth of wastewater. This then generates an energy-saving, cost-effective and environmentally-friendly system for heating, cooling and hot water production in commercial and residential buildings.
The UK's first Sewage Heat Recovery (SHR) system, developed by SHARC, was installed at Borders College in Galashiels last year. It aims to displace 1.8 GWhs (Giga Watt hours) of natural gas and save 150 tonnes of carbon emissions per year.
The innovative SHARC system was developed by Vancouver based International Wastewater Systems, the publicly traded parent company of SHARC Energy Systems, and has been deployed in numerous international locations.
The new alliance will support the Scottish Government's ambitious renewable heat and carbon reduction targets for 2020. It is the result of 2 years of informal collaboration between SHARC and Scottish Water Horizons, which has created a £20m pipeline of potential installations across Scotland that when deployed would generate 170 GWHs per year of heating and cooling to displace the fossil fuel currently used.
Scottish Water Horizons has estimated that up to 750 such systems would need to be installed by 2020 to enable Scotland to achieve its carbon savings targets.
Commenting on the announcement, Andrew Macdonald, Head of Scottish Water Horizons, said: "The potential to deploy this technology is significant.  Heat accounts for over half of Scotland's total energy use and we believe that by harnessing the natural resources of our vast waste water network, we can further the development of Scotland's low carbon economy, whilst protecting and enhancing the environment.
"Scottish Water treats over 900 million litres of wastewater every year and we are determined to maximise the opportunities presented.
"Our alliance with SHARC Energy is an exciting opportunity which will help to accelerate the deployment of this proven technology on a wider scale, providing customers with an innovative and sustainable lower cost heating solution."
Commenting on the announcement, Russ Burton (COO) International Wastewater Systems, said: "This announcement is a very exciting step for SHARC and represents the culmination of two and a half years working with Scottish Water Horizons to identify opportunities for the SHARC technology.
"Having the support from Scottish Water Horizons will give customers the confidence in the SHARC technology, positioning it as a sustainable and viable wastewater heat recovery solution."
Lynn Mueller (CEO) International Wastewater Systems added: "IWS's strategic alliance with Scottish Water Horizons is a significant milestone for our Company and demonstrates how far we have come in a very short space of time.
"We are delighted to be partnering with one of the world's leading water utility operations.  This achievement truly is indicative of the scale of the opportunity we have uncovered."