Scotland's water sector will 'inspire a generation'
Scotland's water sector will be admired for excellence, secure a sustainable future and inspire a generation, delegates heard at the WWT Water Scotland Conference last week.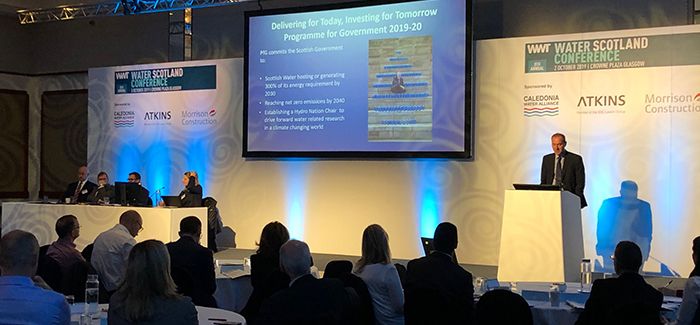 Jon Rathjen, water industry team leader at the Scottish Government told the conference that 'excellence, sustainability and inspiration' will be absolutely key in Scotland's SR21 plans, and that they 'will deliver'.
Delegates heard that although Scotland has done a great job on sustainability so far, there is a planned programme of activity and investment that will ensure the country reaches its long-term ambitions. The government is committed to ensuring that Scotland is at net-zero emissions by 2040, and ensuring a 75% reduction by 2030. Rathjen said: "We have to accelerate to achieve our longer-term targets, and business as usual will simply not do."
Other commitments include establishing a Hydro Nation chair to drive forward water related research in a climate changing world, and Scottish Water hosting or generating 300% of its energy requirements by 2030.
Simon Parsons, director of strategic customer service planning at Scottish Water, said: "Scottish Water will have to transform due to climatic threats to services to support a flourishing Scotland. We will change how we work to live within the means of our planet's resources."
Later, the conference heard from Mark Dickson, director of capital investment at Scottish Water who said that a £3.9 billion investment had been made in their SR15 capital programme, including 2,500 projects delivered with communities and customers. Nevertheless, they will need to invest more in the future to increase productivity, embrace digital, reduce waste, enhance water quality and ultimately drive innovation.
The conference also heard that Scottish Water will be looking to transform its approach to asset management by continuing to improve the information collected and decision-making capabilities, as well as replace ageing assets.
David Satti, assistant director at the Water Industry Commission for Scotland, said: "If we don't begin to make a transition on asset replacement now, we risk pushing these costs onto future generations.
"Scottish Water estimates that it invests around £245m replacing its assets every year, the demands on investment are increasing, as are the solutions. Developing a framework for planning and prioritising investment will be crucial."
With big sustainability and asset management targets, the industry can expect more investment and innovation in SR21 and big opportunities for the water sector in Scotland.
The WWT Water Scotland Conference was held in Glasgow on 2 October and was sponsored by Atkins, Caledonia Water Alliance and Morrison Construction.
Report by Emma Lawson.