schuh expects to save £62K after switching water supplier
Scottish retail business schuh expects to cut its annual overheads by around £62,000 because of a change in water supplier and the identification of the contribution of a small burn.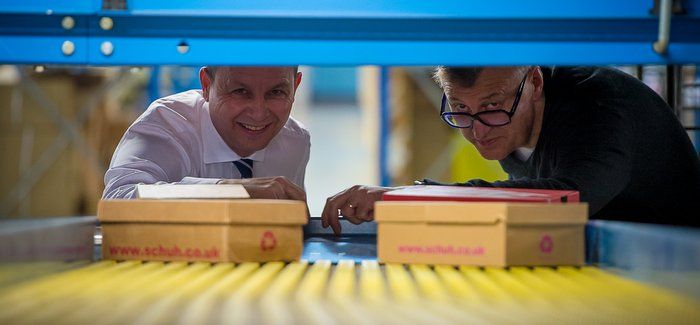 L-R: TWCS' Alan Munro and schuh's Colin Temple
High street footwear group schuh has switched the water retail account for its 15 Scottish branches and Livingston headquarters to Thames Water Commercial Services (TWCS), and as a result is set for £20-22,000 a year savings.
Also, its Bathgate distribution hub has reduced its projected wastewater bills by around £40,000 per year after the TWCS team identified that run-off drainage was flowing into a local burn, rather than into the sewer network where it would incur business charges.
Colin Temple, managing director at schuh, said: "When we set out to switch supplier we were looking primarily to reduce our like-for-like bills. However the team at TWCS has been very proactive in offering further services that save us time and money and quite simply go beyond what is expected.
"The extra attention to detail was evident at our Bathgate warehouse, where the knowledge and expertise of the TWCS team in spotting the significance of the burn quite literally unearthed new savings that would otherwise have gone completely unnoticed."
The schuh facilities team had previously been faced with individual bills at every individual property in Scotland. schuh will now receive a single consolidated bill as part of the TWCS service, saving valuable time, helping reduce transactional costs and removing hassle
Alan Munro, who heads TWCS' Scottish team, said: "This is quite an incredible story, in that we have been able to help schuh reduce their property drainage charges significantly simply through identifying that rainwater being discharged from the roofs of the property was actually being discharged into a nearby burn and not into Scottish Water sewer network. Although this situation is not too common, it is something all businesses should be aware as property drainage charges can potentially make up a significant part of any business customers water bill."