Sand filtration boosts AD plant at maltster Muntons
One of the UK's leading maltsters, Muntons, has installed a sand filtration solution to cope with increased wastewater capacity after the completion of a new anaerobic digestion (AD) facility at its Suffolk production headquarters.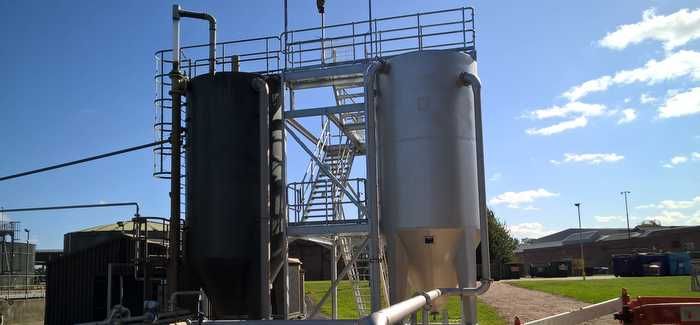 Muntons' £5.4M anaerobic digestion plant generated one million kilowatt-hours of electricity in its first ten months of operation at the site in Stowmarket.
Muntons went to global water management specialists Hydro International to supply, install and commission DynaSand filter to deal with wastewater capacity at the site, which produces 120,000 tonnes per year of ale, lager and food malts.
DynaSand will ensure Muntons meet their environmental commitment to protecting water quality discharge into the River Gipping. The DynaSand sand filter has been fitted together with an existing filtration unit to meet Environment Agency consents of 30mg/l of Total Suspended Solids (TSS) with daily capacity of up to 1500m3. 
Ryland Cairns, Environmental Manager at Muntons, said: "Muntons stands strongly by its ethos of 'practical sustainability' and the Hydro International solution was chosen for its ease of operation and its reliability. These were essential considerations for ensuring we continue to meet consents and protect the local aquatic environment.
"Wastewater treatment at Muntons' Stowmarket site is split between two distinct effluent types," he explained. "High volumes of effluent with a low Chemical Oxygen Demand (COD), at around 2,000 mg per litre, come from the steeping of the barley grains and are treated by our existing aerobic plant. 
"Lower volumes of high COD washwater from the malting process, at about 30,000 mg per litre, are treated via the new anaerobic digestion facility prior to subsequent aerobic treatment.  The DynaSand filter provides the final polishing of water following the aerobic process and before it is discharged into the river."
Keith Hayward, Sales and Marketing Manager for Hydro International's European Wastewater division said: "Muntons is a company that demonstrates a true commitment to putting sustainability into action and we are proud to have worked with them.   The project is another great example of  our proven capability in industrial and commercial water treatment and control."