Royal visit for Welsh Water's RainScape scheme
The Prince of Wales has visited Dwr Cymru Welsh Water in Llanelli to see its innovative RainScape project, which involves retrofitting sustainable urban drainage systems (SUDs) to capture, divert or slow down the rate at which rain water enters our sewer network to reduce the risk of flooding or pollution from overloaded sewers following heavy rainfall.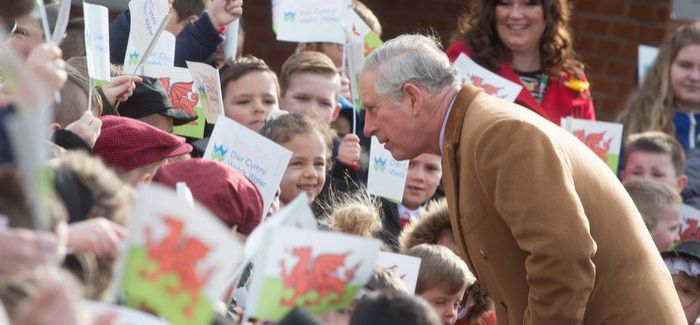 Prince Charles visited several areas that have been "RainScaped", including College Square, Queen Mary's Walk and Stebonheath Primary School. As part of the scheme, Stebonheath Primary School benefited from a £500,000 investment in its playground.
Pupils from the school helped inspire the design of the garden, which has a range of plants, trees, outdoor classroom, permeable paving and large plant boxes, all designed to reduce the amount of rainwater that enters our sewage network. Pupils at the school had the opportunity to explain to the Prince how the project works and the impact it is having on the local community.
Welsh Water invested £15M in RainScape in Llanelli and Gowerton between 2012 and 2015, and has begun a further £25M investment between now and 2020.
Chris Jones, Welsh Water chief executive, said: "We are delighted to welcome His Royal Highness to Llanelli to see our RainScape projects first hand. We're proud to be putting Llanelli and RainScape on the map, creating a sustainable solution to tackle the root cause of too much rainwater getting into the sewer network, as well as educating our future customers." 
Dr Emyr Roberts, chief executive at Natural Resources Wales, said: "We believe that investing in our environment, one of our greatest resources in Wales, can help to solve many of our problems. It can help improve our water quality, reduce the risk of flooding, and create a better place for people and wildlife to thrive. This flagship project is an excellent example of the sustainable management of our natural resources for the benefit of society, nature and the economy."