Royal HaskoningDHV and Imtech bring 'unique' Nereda to UK
Imtech Process expects to build five to eight Nereda wastewater treatment installations in the coming years having signed a cooperation agreement with project management consultancy Royal HaskoningDHV.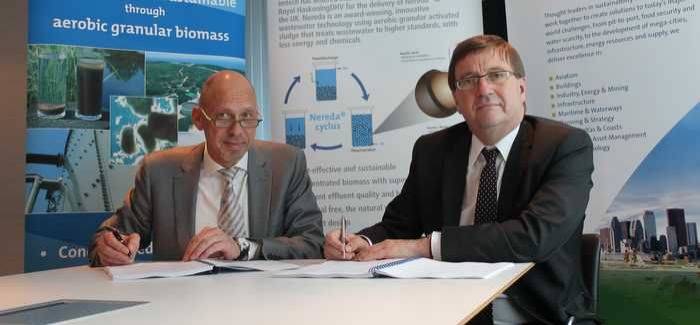 Rene Noppeney (left) and Bruno Speed at the signing of the cooperation agreement
The revolutionary new wastewater treatment technology operates through a unique aerobic granule process. It is a more sustainable wastewater technology, which is set to displace the practice of activated sludge, and purifies water using the unique features of aerobic granular biomass.
The award-winning technology was invented by the Delft University of Technology in the Netherlands. It was developed in a public-private partnership between the university, the Dutch Foundation for Applied Water Research (STOWA), the Dutch Water Boards and Royal HaskoningDHV.
Bruno Speed, managing director of Imtech Process, said: "Deploying Nereda in the UK will be a significant step forward towards sustainable high-quality wastewater service. We are delighted to be part of this revolution in wastewater treatment and proud to be cooperating with Royal HaskoningDHV on this newly-developed technology and practice. Nereda saves 20-30% energy and up to 75% in land use."
Royal HaskoningDHV's global director for Water Products and Innovation, René Noppeney, said: "There was no better moment to start this partnership. The demand from the British market is high. We are receiving regular enquiries from UK water companies interested in our Nereda technology. A significant number of the wastewater treatment plants in the UK are due for renewal in the coming five to ten years."
Nereda plants require a quarter of the area of traditional installations, and the process consumes much less energy; and it is entirely based on natural ingredients. Currently there are 12 plants in operation and more than 20 projects under development and construction throughout the world including in the Netherlands, Portugal, South Africa, Brazil and Poland.
The UK market for wastewater treatment plants is first and foremost an upgrade and refurbishment market: existing wastewater treatment plants need to be modernised and expanded.
Speed said: "Nereda is ideally suited for these upgrades: with its small physical footprint it is very cost effective, while at the same time its energy-efficiency and high treatment capabilities offer the highest standards of sustainability."