Rochdale aeration contract stays local
Fast-growing aeration specialist Suprafilt has landed a £1M contract on its own doorstep. The Rochdale firm is to supply and install a new aeration system for the upgrade of the town's wastewater treatment works.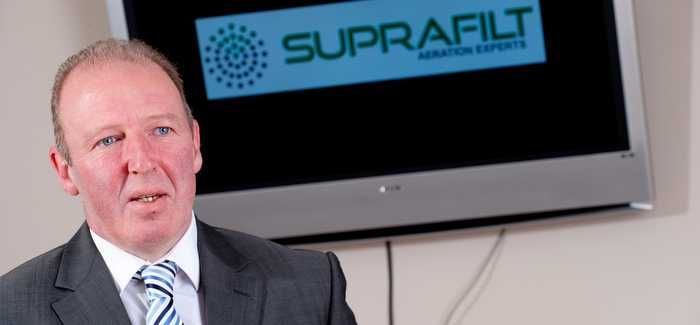 Suprafilt sales director Graeme Fielden says the growth of the company has been "phenomenal"
Suprafilt was awarded the six-month contract by contractor KMI, which is responsible for the project that will increase capacity at United Utilities' Rochdale works and reduce the flow of ammonia into the river Roch. The works include the replacement of existing seven-inch ceramic disc diffusers with nine-inch membrane discs, as well as modifying existing tank headers to include new actuated control valves to improve zonal control.
The contract is the company's second largest, following a £2M order to supply Liverpool's wastewater works.
Suprafilt doubled its turnover in 2013 and looks set to increase it further in 2014.
Sales director Graeme Fielden said: "This is an excellent contract for us to secure and we are delighted to be working with KMI. The growth of the company has been phenomenal and that's set to continue as we start to win more and more of these new projects."
Anthony Doherty, KMI project manager for the Rochdale treatment works, said: "We are delighted to be working with Suprafilt on this project. They are a local company, which is a distinct bonus, but they fulfill everything KMI are looking for in terms of providing a quality product and service and they are also cost-effective."