Robot catamaran used for reservoir survey
Scientists are using sonar technology fitted to a robotic catamaran as part of a survey at Burrator Reservoir in Devon.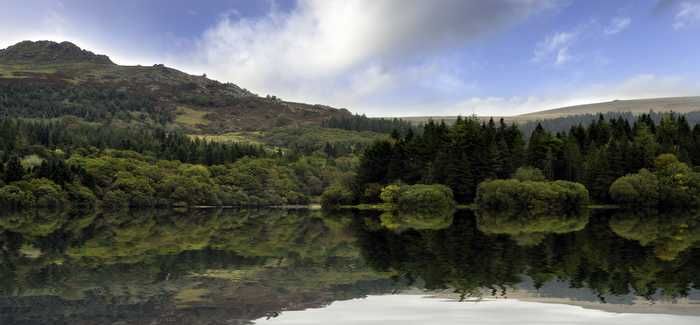 Burrator Reservoir in Dartmoor, Devon
After nearly two years of planning, academics from the University of Birmingham will join forces with two underwater survey specialist companies to launch the catamaran to begin surveying what lies beneath the surface on Tuesday (19 January).
The survey will be carried out by a Multi-purpose Unmanned Surface Vessel (MUSV), the Switchblade, equipped with a high-definition multibeam sonar system. It will be used to survey the lake bed in order to discover and map out a range of natural and historical features.
The team hopes to be able to recreate and visualise what the Meavy Valley would have looked like before it was flooded in 1890.
Features they hope to map include the path of Drake's Leat, the old road to Sheepstor Village over Sheepstor Bridge, Essworthy Farm and evidence of outbuildings and other artefacts associated with the 15th century estate of Longstone Manor.
Burrator is owned by South West Water and managed by the South West Lakes Trust. With the permission of South West Water, the Switchblade will be launched into the reservoir and will be programmed to follow a number of surface routes autonomously, using the vessel's onboard sensor suite.
The kit will capture a huge amount of data corresponding to positions and depths on the lake bed and these will be used to develop a 3D model and visualisation of the underwater terrain.
The virtual recreation of the underwater scene will then be used to recreate the River Meavy Valley as it may have looked in the early 1800s and even earlier, including the original man-made routes and buildings. 
Leading the Birmingham team of virtual reality specialists is Professor Bob Stone from the University's Department of Electronic, Electrical & Systems Engineering's Human Interface Technologies (HIT Team).
They are working with experts from Truro-based Swathe Services and Plymouth submarine firm MSubs. 
Professor Stone said: "We are so fortunate to have been allowed to conduct this survey by South West Water, as Burrator is such an important factor in the lives of Plymouth and neighbouring towns.
"To be able to work with our colleagues from Swathe Services and MSubs and use this amazing technology to help us to recreate a landscape that has been lost forever is an incredible opportunity.  We really are looking forward to being the first to see what the pre-flooded valley actually looked like."
The early results of the survey will be presented at a special Virtual Burrator event, to be held at Burrator Discovery Centre on the 11 February, 7.30pm-8.30pm. Details: heritage@swlakestrust.org.uk