Reservoir project uses floating crane solution
Thames Water have used an innovative solution involving a floating crane as part of a project to renovate a reservoir in Surrey.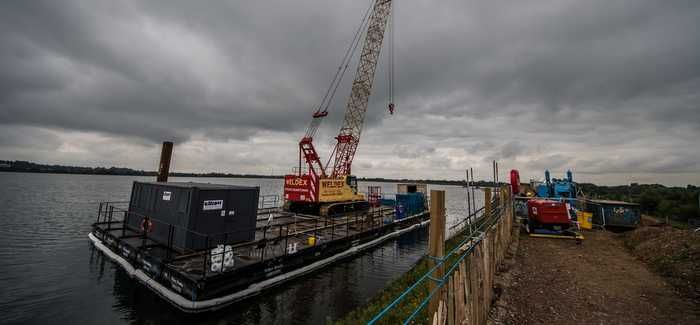 The crane and other equipment have been floated on a pontoon
The banks of Island Barn reservoir, West Moseley, are currently being reinforced with metal sheets to stop water seeping through. However, instead of draining the reservoir, the project team are floating their equipment on specially made pontoons on its surface so it can continue to store water and provide amenity to local users, which include a sailing club.
Thames Water's site construction manager, Amit Chakraborti, said: "Historically a reservoir like this would be drained for work to be done on its walls, but this would have meant the sailing club finding a temporary new home and also taking the reservoir out of supply, which after a dry winter and spring, we didn't want to do.
"Floating a heavy crane on top of the water in this way is certainly a different approach but we're constantly looking into new and innovative ways of working to limit disruption and keep costs down. We're really glad the sailing club have been able to continue using the reservoir while this vital improvement work is in progress."
Island Barn reservoir was constructed in 1908 for the Metropolitan Water Board, and opened in 1911. It stores water abstracted from the River Thames which is then fed into nearby sites to be treated and put into the drinking water supply network. The reservoir covers an area of 122 acres – about half the size of Hyde Park – and holds approximately 992 million gallons of water.
Island barn sailing club has been established on the reservoir for many years and throughout the year offers a variety of racing and family orientated activities. John Oldham from the club said: "When Thames Water announced the important improvement works members were very concerned about the knock on effect to the club. However Thames Water have been brilliant, accommodating us around their works program, building new access ramps to assist the relocation of the sailing launch site and generally looking out for our interests. The works are large and impressive but in truth have caused very little disturbance."
Work on the reservoir is due to be completed later this year.