Research funding for immortal membrane and water separation project
University of Bath is to research and develop the next generation of long lasting immortal membranes that will be able to separate water from problematic particles such as pharmaceuticals or pollutants, having been awarded a £1M Engineering and Physical Sciences Research Council (EPSRC) grant.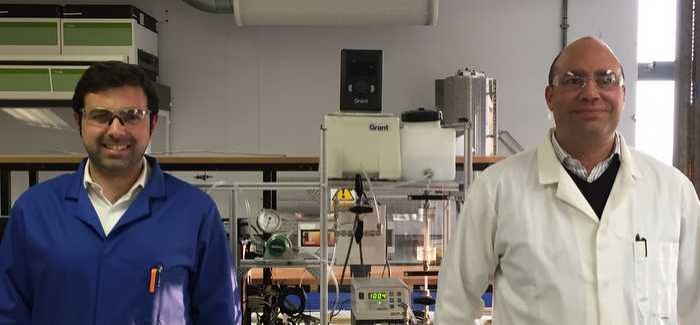 Bath University's Dr Darrell Patterson and Dr Davide Mattia
Dr Darrell Patterson and Dr Davide Mattia, in the Department of Chemical Engineering, are part of a collaboration between six UK universities that has been awarded a £6M EPSRC grant over five years. The funding will enable the project, called 'From membrane material synthesis to fabrication and function' (SynFabFun), to establish a UK virtual membrane centre that will act to unite the UK membrane research community.
The project is being led by Newcastle University.
The programme will look at improving membrane performance in four main industry sectors important to the UK and worldwide: energy, manufacturing, pharma and water. In all these industries, membranes have the potential to, and in some cases already do, provide a lower energy alternative to existing separation technology, requiring significantly smaller capital costs.
Membranes are not yet widely used for some applications due to their operating costs, requiring periodic cleaning and, eventually, replacement. This is caused by the loss of permeability and / or selectivity during service, and is due to both the membrane material changing and degrading as well as a build-up of unwanted material on the surface of the membrane.
Each of the collaborating universities will conduct research into a specific aspect of membrane development. Dr Patterson will investigate how to produce membranes on a large scale, using the latest technology present in 3D printers, whilst Dr Mattia will focus on creating novel hybrid membranes that will combine the best features of organic membranes with those of ceramic membranes, effectively creating a completely new family of membranes.
This programme is supported by a number of significant industry partners including Johnson Matthey, Evonik, GSK, BP, Pervatech, Bluestone Global Tech, Anglian Water, Severn Trent Water, Thames Water and Scottish Water whose engagement in the projects will enable the research to have a direct impact across the UK industry.
Commenting on the University receiving this research grant, Dr Patterson said: "This work further adds breadth and depth to the extensive membrane separation research at the University of Bath. What is most significant and exciting for me is that a wide range of industries are set to benefit from this research, which is demonstrated by the number of industrial partners we have.
"The novel 'immortal' membranes that we make will help solve some of the grand challenges of applying membrane technology in these industries and through this, hopefully provide wider societal benefits."