Reed beds go gold at green awards
Water treatment specialist ARM Reed Beds has struck gold by winning a Green Apple Environment Award. The Staffordshire company walked away with the gold in the utilities category for its work with Essex & Suffolk Water, part of Northumbrian Water, at its Hanningfield water treatment works (WTW), near Chelmsford.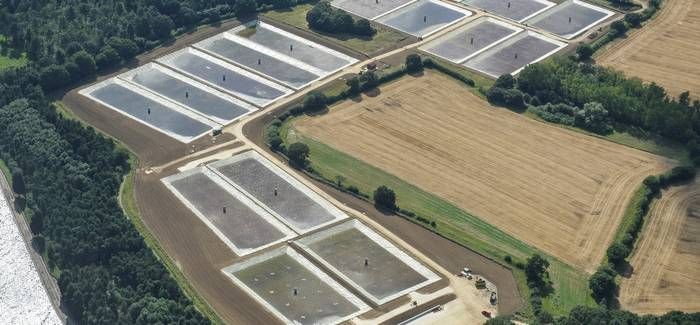 Aerial view of award-winning reed beds at Hanningfield water treatment plant in Essex
Competing against 500 other nominations, ARM was one of three shortlisted companies where it topped the category. The Green Apple Environment Awards recognises Britain's greenest companies, councils and communities. ARM received its award at the House of Commons where over 400 guests gathered to celebrate this year's winners.
Tori Sellers, a director at ARM, said, "The ground-breaking natural wastewater treatment system at Hanningfield is the first of its kind, not only in the UK but in the world, to treat drinking water sludges.
"Following successful trials, the full-scale system was commissioned and is now in full operation.  It is the most innovative and environmentally efficient method of treating ferric sludge and the systems green credentials are clear.
"It has low operational costs due to low energy consumption plus it is so efficient that residual sludge will only need to be removed from site every 20 years.  One of the biggest benefits is that the wetland system will save 70t of CO2 emissions every year.
"Natural wastewater systems are the future and we are delighted to win the award which is testament to Suffolk & Essex Water's commitment to the environment."
ARM says the Hanningfield project is the first of its kind and is leading the way in helping to provide sustainable drinking water to the UK's population. Judges for the Green Apple Awards are drawn from the Environment Agency, the Chartered Institute of Environmental Health, the Chartered Institution for Wastes Management and other independent bodies.
Timelapse video of construction of Hanningfield reed beds