Proactive network management key in PR19 - Ofwat
The arrival of PR19 heralds some fundamental changes in the regulatory regime, Ofwat's Ian Pemberton told the WWT Smart Water Networks Conference.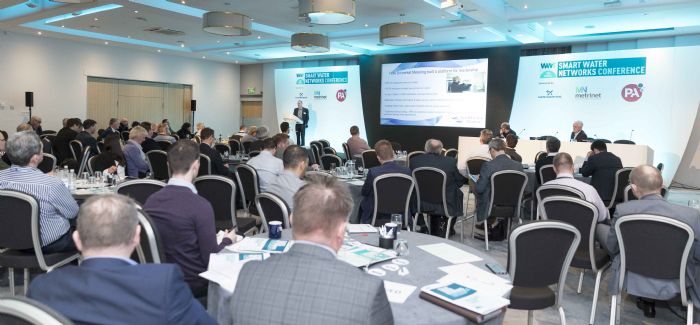 The WWT Smart Water Networks Conference took place in Birmingham on 20 March.
Drivers for change
David Ogden, wholesale technology manager at United Utilities, described customer service, affordability, resilience and innovation as the "drivers for change".
UU has been working with JaguarLandRover and has recruited data science skills from academia. Its progress since 2012 has involved defining its BIM strategy and redefining its approach to technology and disruption – which led to the formation of Wholesale Technology, Ogden's department.
Implementation of its AMP6 operating model achieved over £100 million in totex savings, 43% reduction in pollution events, 29% cut in water quality events, and 13% increase in renewable energy.
Andrew Ball, water utilities director at Grundfos, a global leader in advanced pumping solutions, explained how digitalisation can enable water companies to achieve the targets that Ofwat is setting within the PR19 framework.
Ball outlined the case for demand driven distribution (DDD), which requires the deployment of smart technology. It can help reduce unexpected events, to better manage assets and provide a more even pressure profile. Grundfos claims up to 20% less leakage and 28% energy savings have already been achieved in DDD networks, citing Dubai City as an example.
Can existing technology deliver data from underground pipes and from assets in remote areas? Neil Sewell, director of technology services at SDS Limited, was recruited from the world of Formula 1 motor racing, where sensors operate in extreme environments: at high temperatures and at high speed. He maintains the answer is yes.
The conference, which took place in Birmingham on 20 March, was held against the backdrop of PR19, the regime that will cover pricing from 2020.
Pemberton, principal engineer, analytics, with Ofwat, said: "The existing structure set a bar that companies are expected to reach and provides little incentive for companies to outperform.
"The new approach is distinctly holistic in style and is intended to encourage the industry to move from reactive to proactive network management, and to make a stronger case for innovation – all of which smart networks should be able to do."
Paint a clear picture
Achievement of genuine smart networks requires a clear picture of what the industry wants and means of data collection and analysis, according to representatives of supply-chain companies present at the conference.
There are lessons to be learned from elsewhere in the world – such as Australia and Canada – and from other industries. Manufacturing uses sensors and monitors in predictive maintenance programs, such as OEE (operational equipment effectiveness), and as the backbone of IIoT (industrial internet of things) and Industry 4.0.
SES Water's innovation manager, Jeremy Heath, discussed emerging technologies that will take the network close to real time monitoring. These include low power wide area networks (LPWAN) and LoRa networks, which use radio in the 868MHz bandwidth. LPWAN has been tested in other countries, such as Spain, including in water companies. SES is trialling these systems for new housing developments (LoRa) and sprinkler systems (LWPAN). 
Perfection isn't necessary
One of the hurdles to adoption of this sort of technology has been concern that each individual sensor and data collection device has to be perfect. Heath challenged this.
"Each sensor is important but does not provide a definitive result," he said, and gave the example of Google Waze, which uses 'fuzzy logic' to analyse traffic flows on highways. Rather than relying on individual sensors (e.g. GPS trackers), which may give a misleading picture – a taxi stopping to pick up a passenger may suggest a traffic jam, for example – data collected from a larger number of mobile phones will give a better picture of what is actually happening.
Why not now?
"Why are these things on the agenda at the moment and why are they not being done already?" Mike Strahand, managing director Europe at ATI, asked, and further challenged the audience to consider whether these are realistic goals and whether they are worth the effort.
"I believe we are on the flightpath to smart networks," he said, in response to his own questions. "Data, data collection and data analysis are fundamental to the journey."
As to why the issues are arising now, he said: "The stars have aligned. There are loads of Cloud-based platforms; data storage is practically free. 5G will deliver tremendous data capability. Processing power is growing more per hour than in the past 70 years."
The means of collecting data – sensors – are now small and easily deployed, whether for measuring flow, water quality, pipe integrity or anything else to do with the asset base. The effective deployment depends on something else, which requires a shift in traditional operating behaviour.
"Collaboration is essential. The supply chain and water companies must work together, properly," he said. Openness, even between competitors, must be encouraged. "Some things will never be open but flow data, water quality and how problems are solved can be."
While a lot of sensors will have to be installed, a lot are already in place, on machinery and equipment. There is so much data already being collected and with the potential to be collected that the challenge becomes making effective use of it.
Harnessing 'dark data'
"The water business has masses of data but it doesn't trust it," Alexander Mahon, dark data specialist at PA Consulting, said. "Dark data has been defined as data that is collected but isn't used. For us: data is data; it's how it's structured that is important."
To many businesses – including water – it is the trend that is important, not the outliers. The taxi stopping to pick up a fare, in Jeremy Heath's example, is not the important information: the flow of the mass of vehicles on the same street is what matters. The challenge is the same as that faced by all industries, as IIoT is established and Industry 4.0 is realised: identifying that data which is important to the organisation out of all that it has available.
The dark data approach, taught by PA, helps business to identify what is of value and provides the evidence to make decisions.
Reducing risk, raising reward
The benefits Strahand sees flowing from smart networks include reduced risk; mitigation of event impact; better event predictability; better customer relationships (telling them what is going to happen, rather than hearing about events in the form of complaints); reduced operating costs; and the demonstration of control to the operator.
"Smart network is on the agenda because it is possible," he said. It's costable and plannable and, in my view, is worth it."
'Target 100'
Ben Earl, water efficiency manager with Southern Water, announced the launch of 'Target 100', which aims to drive down water usage to 100 litres per head by 2040, including both domestic and non-domestic.
Over the next 20 years, Southern Water's population is set to rise by 20% and there will be over 210,000 new homes. Climate change will see summer rainfall down 20%, while winter's will rise 20%.
Target 100 will build on the achievements of Southern's existing water efficiency campaign, which has cut consumption to 131 ltrs/head, against the average of 150. The introduction of universal metering has been a key element but it has found that incentives – community, even more than individual – helped, as did the implementation of tailored solutions.
"Analytics is crucial to the success of Target 100," he said. "One of the challenges will be how to work in a proactive way while adhering to the letter and spirit of GDPR."
The WWT Smart Water Networks Conference was sponsored by PA Consulting, Ati and Grundfos.