Prince Charles pays a visit to Abbey Mills and the Lee Tunnel
Prince Charles has helped mark the 150th anniversary of London's sewer system by visiting the Lee Tunnel and historic Abbey Mills Pumping Station. He was accompanied on his descent 75m below east London by Thames Water apprentices.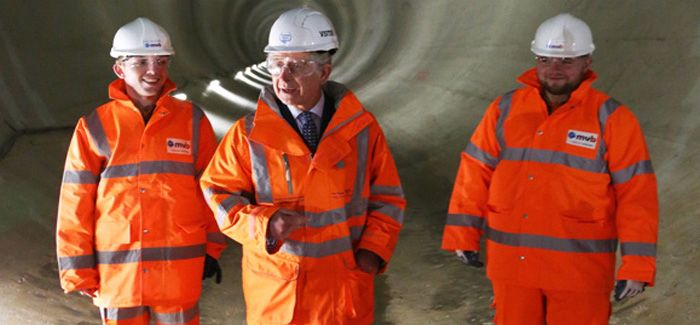 Prince Charles with Thames Water apprentices Liam Kelleher and Tony Brown inside the Lee Tunnel
Sir Joseph Bazalgette's sewers transformed the health of the capital's residents in 1865 following the infamous 'Great Stink', while yesterday's Royal reception also celebrated another great feat of contemporary world class engineering – the completion of tunnelling work on the £635M Lee Tunnel.
Thames Water chief executive Martin Baggs said: "Abbey Mills was such a fitting place to hold the celebration. It formed the central feature of Bazalgette's Victorian sewerage system, but the site is also at the core of our current developments. The Lee Tunnel has just been completed at Abbey Mills and this, along with the extensions and improvements at the five sewage works which discharge into the tidal river and the Thames Tideway Tunnel, due to begin construction next year, will greatly improve London's great river for wildlife and people alike."
Apprentices Liam Kelleher and Tony Brown met Prince Charles inside the 7m-wide Lee Tunnel, which runs 7km from Abbey Mills to Beckton sewage works.
A strong supporter of apprenticeship schemes, Prince Charles has spoken in the past of the importance of giving young people access to careers opportunities to gain real hands-on experience of the industry due to an acute shortage of engineers in the country.
Baggs added: "Apprentices and young people have a key part to play in our future. Bringing in new talent now is crucial as we need an army of operational staff ready to take over from those who will inevitably retire in years to come."