PR19 leakage targets will drive innovation - Ofwat's Ashley
Ofwat expects to promote greater innovation by setting strong leakage challenges in PR19, the regulator's director of customer engagement and outcomes, Jon Ashley, told the Utility Week Live conference today (22 May).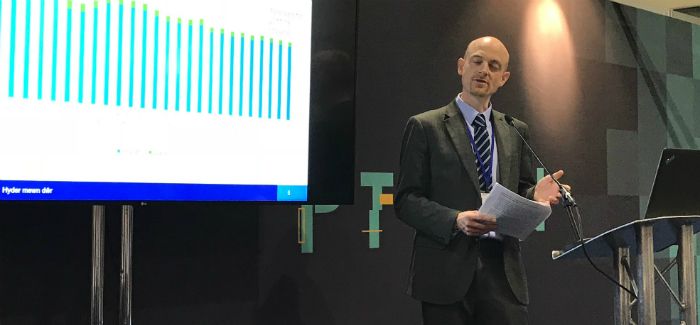 Ofwat's Jon Ashley addresses the Utility Week Live conference in Birmingham
Ofwat is challenging companies to reduce leakage by 15 per cent as part of its PR19 methodology and Ashley said there had been a "mixed response" from the companies, with some "really recognising there was a need for an ambitious reduction in leakage" and others believing the target may be a step too far.
One delegate highlighted the manner in which Ofgem had incentivised risk-averse utility companies to pursue innovation through the Innovation Funding Incentive (IFI) and then the Network Innovation Allowance (NIA) and asked if Ofwat might adopt a similar approach.
Ashley replied: "We don't have the innovation funding in the way Ofgem has at the moment, but one of the ways we're stimulating innovation is by really pushing companies on their leakage commitments, like the 15 per cent reduction challenge, on the basis that necessity is the mother of innovation."
He added that new chief executive Rachel Fletcher, who joined Ofwat from Ofgem in January, will be "thinking about different incentives" for the following Price Review.
Other speakers at the Tackling Leakage session discussed an array of new methods of tackling the issue of leakage. 
Rose Jolly, innovation manager - exploitation & governance - at Severn Trent, discussed a four-day event the company held at the end of last year to spark new ideas on how to tackle leakage. The event involved a design sprint and data hackathon, while Severn Trent adopted a Dragons' Den-style approach to investigating new technologies by inviting people to pitch their ideas.
The event led to an array of ideas, including low-cost options such as spotting leaks through Twitter activity, or seeking to avoid placing pipes near roads, where they are more likely to burst.
"If we're going to meet the targets we really need to meet, we're not going to get there by doing the things we've always done," she said.
Steve Kaye, Anglian Water's head of innovation, discussed his company's Innovation Shop Window initiative in Newmarket and highlighted techniques including thermal imaging drone technology. 
Kaye, who stressed the growing need for an asset intervention strategy rather than relying on new assets, said Anglian had put a "massive effort" into tackling leakage in recent years, partly in response to customers' strong views on the subject. 
Ashley also said public opinion would play a part in ensuring leakage will be a major issue in AMP7, even if Ofwat would not be taking its cue from the media coverage of the topic.
"Leakage is a high-profile issue for the water industry – it's often in the media," Ashley said. "These headlines illustrate that we're talking about a very important issue, an issue that matters for our Price Review and for Water Resource Management Plans. However, our policy for the PR19 on leakage is of course not driven by headlines but by a considered view of the evidence on leakage and through consultation with our stakeholders.
"One of the key inputs for our policy on leakage is the views of customers, and our policy explicitly allows companies to take account of their customers' views in their performance commitments for PR19.
"I've met with all the water companies over the last few months to understand their approach to customer engagement and I've picked up from them that leakage is as important in this Price Review as it was in PR14."