Portsmouth Water to transfer 15m litres a day to Southern customers
Portsmouth Water has signed a long-term agreement to transfer 15 million litres of water a day to Southern Water customers in Hampshire.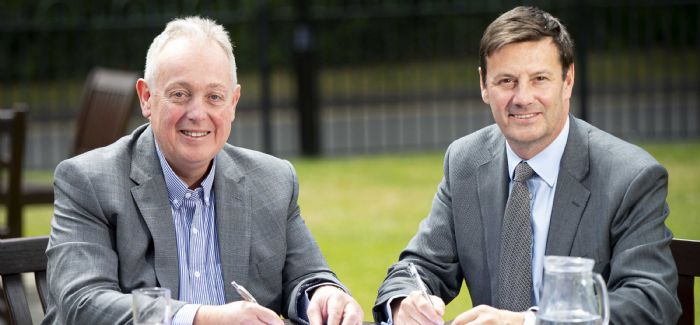 Portsmouth Water's Bob Taylor and Southern Water's Ian McAulay signed a long-term agreement
River Itchen Treatment Works will supply enough to serve 100,000 Southern Water customers each day.
Southern Water is having to contend with new restrictions on water abstraction from the rivers Test and Itchen and plans to spend more than £800 million over the next 10 years to make up the deficit created by the new licences.
Portsmouth Water's Itchen abstraction is situated on the lower tidal reaches of the river. From an environmental perspective, it is preferable to take water at this point than further upstream.
The volumes supplied under this agreement are within the terms of Portsmouth Water's existing abstraction licence.
Portsmouth Water CEO Bob Taylor said: "We are very pleased to be able to expand our emerging role of being a water supplier to the wider South East region.
"This was proposed in our last Water Resources Management Plan and we are pleased that the pumping station is in place to support this summer's peak demand period. This supply is in addition to an existing bulk supply we have provided to Southern Water since 2004 in their Sussex area."
Southern Water CEO Ian McAulay said: "We're delighted to be working with Portsmouth Water to help address the shortfall we'll experience as a result of being able to abstract less water from the rivers Test and Itchen.
"We're committed to providing our customers with the best possible service while protecting the natural environment around us and so we're investing £800 million over the next decade and £2.4 million in the coming year to tackle leakage to ensure we continue to do this."