Portsmouth flood defence scheme gets underway using Norway rock
A Southern Water project team has imported thousands of tonnes of rock from Norway in order to build a sea defence scheme which will protect homes and assets in the Portsmouth area.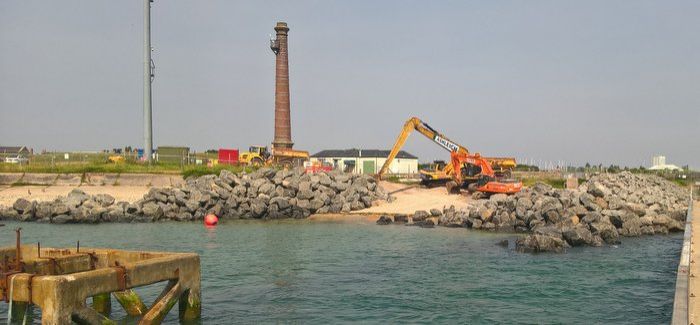 Work underway at Fort Cumberland near Portsmouth
Barges carrying huge rocks from Norway arrived at Fort Cumberland, Eastney, after the rocks were initially stored in a holding area in Southampton. It is part of a project to shore up the coastline and protect Southern Water's underground storm tanks.
Works have already started to install these as the rock armour sea defences.
Southern Water Project Manager Kieron Kidwell, said: "Our work on the ground has started and several tonnes of rock have already been delivered to our site at Fort Cumberland.
"Depending on the weather, we're hoping the last barges carrying the rock will have arrived this week. Then we can start the crucial works to start building the rock sea defences.
"Once complete, this will help to protect homes inPortsmouthfrom flooding with sewage."
The old and damaged concrete defences that were previously in place have now been broken up and removed.
Southern Water has invested £2.8M to replace the old sea defences, following on from a previous £10M project in 2015 which improved the resilience and robustness of storm tanks at Fort Cumberland. Norwegian rocks were required for the work because of their size, density and type.
The new sea defences will support the local environment infrastructure and protect the historicalFortCumberlandbehind the site.
A small section of coastline and grassland area, next to the jetty, is currently closed while the works take place.
Southern Water is working in partnership with Galliford Try and ABCO for the scheme which is scheduled to be complete by November, in order to avoid the wintering bird season.
More information about the scheme at Fort Cumberland can be found at https://www.southernwater.co.uk/fort-cumberland