Painstaking clear-up at sewage works after oil poured into sewers
Thames Water has launched an investigation after thick, black oil was poured into a sewers, clogging up a pumping station and polluting Bracknell sewage works.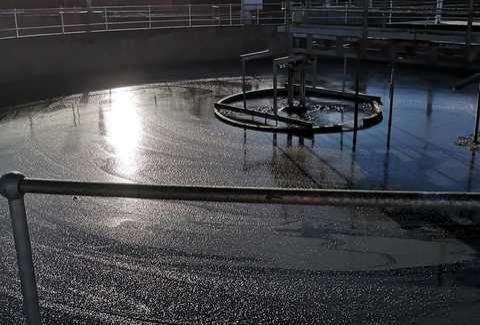 The oil has had to be skimmed off the surface of the wastewater
The utility has had to carry out a complicated and unpleasant clean-up procedure at the works to remove the substance, but said there has been no impact on customers or the environment thanks to the speed in which the issue was spotted by its engineers last week.
Had the oil not been spotted quickly, it could have damaged vital equipment as well as creating a blockage in the sewers which would have had a devastating environmental impact.
Steven Gerrard, who manages the works, said: "Putting oil in the sewers is incredibly irresponsible and will take a lot of time and money to clean up.
"Luckily we have prevented it from having an impact on customers or the environment but the wider consequences could have been catastrophic.
"We would urge whoever is responsible to come forward so we can ensure this never happens again."
Bracknell Sewage Treatment Works serves thousands of households in the region and it is not the first time that oil has made its way into the network in the area. However, the quantity of oil involved in this incident is far greater than anything seen previously.
For the last week Thames Water staff have had to painstakingly skim oil of the surface of the water at the treatment works and will continue to do so until all of the pollutant has been removed.
Gerrard also asked for people to think about what they flush down the toilet as wet wipes and sanitary product in the sewers also create blockages, slowing the clean-up process even more. 
Each year, Thames Water deals with 75,000 blockages in the sewers caused by unflushable items and substances being put being incorrectly put down the drain.
In its 2020-25 business plan, Thames Water has committed to reducing the number it needs to deal with down to 65,000.