One million hours and no accidents at Blackburn Meadows
Yorkshire Water's Blackburn Meadows wastewater treatment works is one of the safest construction sites in the region, with more than one million hours having been worked at the site without serious accident or injury.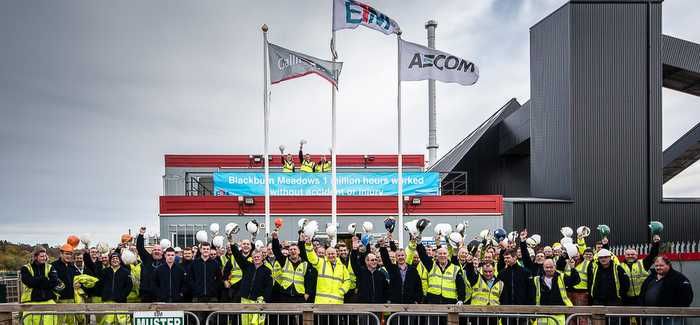 ETM staff celebrate reaching the health & safety milestone
The one million hours relates to the time spent on this construction work by Yorkshire Water contractor ETM, a joint venture between Galliford Try and AECOM.
Work started at the site early in 2012 as part of a £78M investment to improve the wastewater treatment process, increasing the quality of the water discharged into the River Don.
The 78-acre site, which is the second largest sewage works in Yorkshire, is located next to Meadowhall shopping centre and treats wastewater from a population equivalent to more than 800,000 people from the Sheffield area, as well as wastewater from a number of key industrial sites.
Kevin Smith, Yorkshire Water project manager, said: "We are very proud of our ETM colleagues, and our joint safety record, and this achievement is really one to celebrate."
Rob Wroe, Stream manager at ETM, said: "This is a very rare event, to achieve one million hours RIDDOR free on one site. It is testament to the hard work, culture and professionalism shown by our site team and our suppliers."
Work at Blackburn Meadows is scheduled to be complete by September 2014.