Ofwat reveals initial assessment of PR19 plans
Ofwat has given its initial assessment of water companies' business plans for 2020-25, with Severn Trent, South West Water and United Utilities delivering such high-quality plans that they have already been given the green light.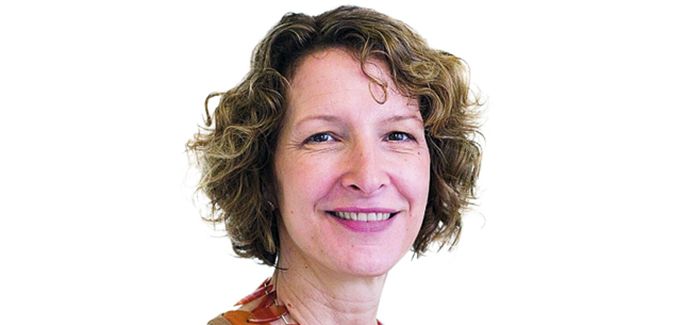 Ofwat's Rachel Fletcher challenged the entire sector to meet the standards set by Severn Trent, South West Water and United Utilities
The plans from those three companies set out how they will cut bills by up to £70 in real terms while significantly improving support for vulnerable customers, and deliver real change in the areas that matter most to customers, like cutting leakage.
The regulator said that United Utilities and South West Water "set the standard for other companies to reach" on resilience in the round.
It added that no company's business plan was sufficiently ambitious, innovative and high quality to be awarded 'exceptional status' and receive higher financial rewards than 'fast-track' companies but that the threshold for fast track is high.
In the coming months, the remaining water companies will have to strengthen their plans so they too deliver for customers.
Four companies – Affinity Water, Hafren Dyfrdwy, Thames Water and Southern Water – have the most work to do in order to meet the tough challenges Ofwat has laid down for the sector.
Across the board, water companies are proposing significant improvements for customers in the period 2020-25, including:
• Help for up to 1.5 million customers struggling to pay their water bills
• A 15 per cent reduction in leakage – the equivalent of more than 170 billion litres of water per year, which would save enough water for three months' worth of daily showers for everyone in England and Wales
• Cutting greenhouse gas emissions by 45 per cent, the equivalent of taking 360,000 cars off the road
• Up to 80 per cent reduction in pollution incidents
• At least £10 billion worth of extra investment to meet more stringent environmental standards, connect new homes and meet increased demand over the coming years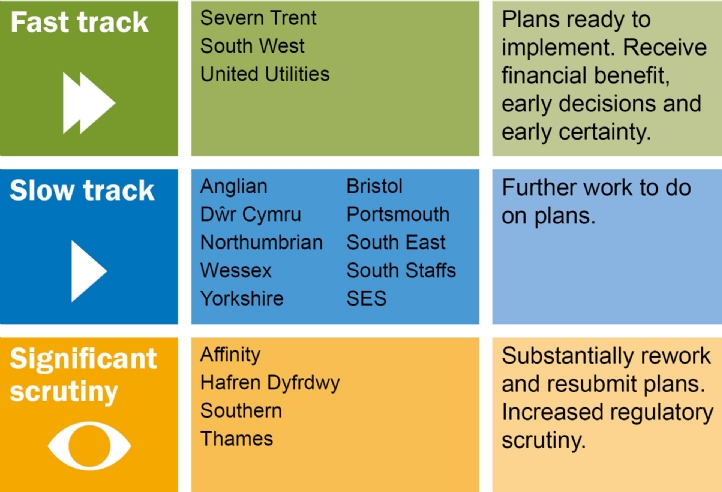 Ofwat chief executive Rachel Fletcher said: "We have challenged all water companies to deliver more for less for customers over the next five years.
"They've listened to the customers they serve. We're seeing an increased focus on the things closest to people's hearts such as keeping bills affordable, cutting leakage, protecting the environment and helping those most in need.
"Three companies have already stepped up to the mark with high quality plans and stretching commitments to customers for the next five years. The rest of the sector now needs to meet this high standard so that customers across the country get better and more efficient services."
On 1 April, companies categorised as either significant scrutiny or slow track must submit revisions to their business plans addressing the shortcomings Ofwat has identified.
On 11 April, draft determinations for companies with exceptional and fast track plans will be published.
Ofwat will then publish draft determinations for companies categorised as either slow track or significant scrutiny on 18 July, with all final determinations to be published on 11 December.
To view Ofwat's assessment of water companies' business plans in full, click here.
Read how the industry reacted to Ofwat's initial PR19 assessments here.