Ofwat rejects Thames Water price hike
Ofwat has refused Thames Water's application for an additional price increase in 2014-15, saying the evidence submitted by the company did not justify its proposed £29 extra rise in customers' bills.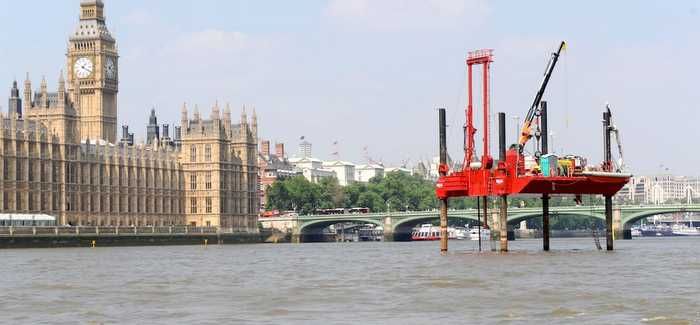 Covering land acquisition costs for the Tideway Tunnel was among the reasons that Thames was seeking the interim price increase
Thames Water said it will now "review the decision carefully before deciding on our next steps". The company has the right to trigger an appeal to the Competition Commission.
In making its final decision, Ofwat said "it was for Thames to justify that this increase was in customers' interests". The decision means the maximum that Thames can add to customers' bills is 1.4% above inflation as set out in the 2009 price review.
Commenting on the decision, Ofwat chief regulation officer Sonia Brown said: "We said we would challenge Thames' application, in the interests of customers. We did just that and on the evidence provided we are not convinced that an extra bill increase is justified."
Ofwat is continuing to look at the extent to which Thames has benefited from wider economic circumstances and the lower cost of capital, and whether it can deduct these gains through the 'substantial favourable effect' mechanism.
Thames Water applied for the interim increase in August. It was seeking the price increases to cover four areas:
The Tideway Tunnel land acquisition costs, where £273M has been spent
The costs of operating and maintaining the additional 40,000 km of sewers following the Private Sewers Transfer in October 2011
Increases in bad debt as a result of the economic downturn
Increases in Environment Agency charges
Last week Ofwat's chairman Jonson Cox wrote to all water companies asking them to consider whether they needed to increase their bills for 2014-15 by the full amounts set in the last price review, given the hard time their customers are facing. 
On December 2, companies will submit their business plans for the next price review, which will cover the period from 2015 to 2020. Ofwat has called on these plans to reflect their customers' priorities, and believes there is scope for reductions in bills from 2015.
If companies do not propose reductions, they will need to fully explain to their customers why. Jonson Cox last week repeated that Ofwat will set 2015-20 prices using an independent, rigorous process. Its final decision is due on these prices by January 2015.