Ofwat proposes extra £12bn investment to build 'new era'
Ofwat has proposed that water companies invest an extra £12 billion over the course of AMP7 while cutting bills by an average 12.7 per cent as it revealed its draft determinations for PR19.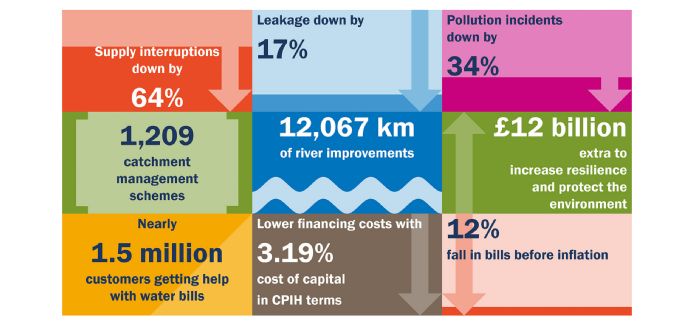 The regulator today (18 July) published its draft determinations for 14 of the 17 water companies in England and Wales, with Severn Trent, South West Water and United Utilities having been fast-tracked in January.
Its proposals allow companies £49 billion for both 'business as usual' services and new investment, but involve spending an extra £12 billion to improve services for future generations, which works out at an additional £6,575,342 every day. Companies had initially proposed to spend just over £50 billion in AMP7.
The added investment is intended to improve the industry's preparedness for population growth and climate change, and includes £2.3 billion to improve resilience and security of supply, which may include new reservoirs. Ofwat is also funding up to £450 million for companies to collaborate on long-term strategic water resource solutions.
It said there is £312 million of funding for Anglian Water, Southern Water, South East Water and Welsh Water to connect more of their own networks together, so that water in their regions can be moved to where it is needed more easily, and that there is £780 million of funding to reduce the impact on customers and the environment if water supply and wastewater treatment infrastructure should fail.
The collective leakage target is also now at 17 per cent, with companies having initially been tasked with cutting it by 15 per cent by 2025.
The regulator said the plans signalled a "new era" that would bring "better services for customers alongside environmental improvements, backed by increased investment and with lower bills".
In addition to the target to reduce leakage by 17 per cent – companies had collectively proposed reductions of just over 16 per cent in their initial submissions – the industry is expected to achieve a 40 per cent reduction in sewer flooding, a 64 per cent drop in supply interruptions, and provide extra help for almost 2 million more vulnerable customers.
Ofwat chief executive Rachel Fletcher said: "The package we are unveiling today signals a brighter future for customers, with better services, a healthier natural environment and lower bills.
"To get there, we are calling for extra investment of £6 million each and every day to improve the environment and provide services for a growing population. At the same time, we expect to see customers' bills cut by an average of £50.
"These are seriously stretching goals for the sector, but we know they can be achieved. We have seen three water companies leading the way and we now want the rest to show the ambition and drive to deliver this new era for customers and the environment."
Anne Dacey, Environment Agency deputy director for water, said: "Water companies are custodians of the environment. We expect them to deliver on the promised £4.6 billion investment to protect and enhance rivers and beaches, as well as redouble their efforts to reduce pollution, protect more properties from sewer flooding and increase resilience to drought.
"Whilst we are pleased with this ambition, and the plans do broadly include our recommendations for environmental improvements, we will review the finer detail before challenging the companies on any further changes needed."
Ofwat said its expectation that bills will fall by 12.7 per cent – an average £50 before inflation – is based on falling financing costs and its demand for more efficient business-as-usual services from companies.
The regulator wrote to Anglian Water, SES Water, Thames Water and Yorkshire Water earlier in July to give them early notice that it has substantial concerns about their proposed costs for maintaining business-as-usual service.
"Our analysis – and comparison with the more efficient 'fast track' companies – shows that most water companies can be run more efficiently than their plans suggest," Ofwat said when publishing its draft determinations.
"Greater efficiency and productivity, together with the fall in financing costs, are what will deliver this new era of service, innovation and environmental improvement.
"Water companies now have a further opportunity to provide new evidence if they consider our draft determinations will prevent them from delivering for customers and the environment. We will consider carefully the responses we receive from all stakeholders before making our final determinations in December."
Tony Smith, chief executive of the Consumer Council for Water, said: "It's good news that most customers will see their bills fall even after inflation and that Ofwat has responded positively to our long-standing challenge to be much tougher on companies' financing costs and performance.
"Not everyone will see their bills fall when you add inflation, and customers need to be told how much Ofwat's financial rewards for companies could hit them in the pocket. Only about half of the 3 million households who struggle to afford their water bills will receive financial assistance under these plans, so more companies should use their own profits to boost this support and not rely on the goodwill of other customers to fund these schemes."
Ofwat will publish final determinations for all companies on 11 December 2019. Water companies then have until 11 February 2020 to decide whether to accept their final determination or request an appeal to the Competition and Markets Authority. 
Read analysis on the impact of Ofwat's draft determinations here