Northumbrian Water signs up volunteers for pollution reporting
Northumbrian Water is seeking volunteers from across its region as part of a plan to tackle pollution in its watercourses.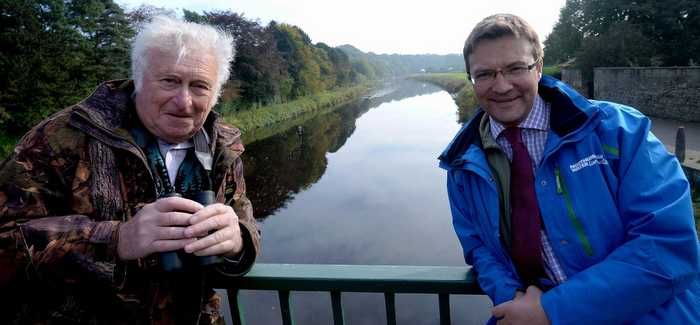 Den Lilley (left), the scheme's first Water Ranger volunteer, with Northumbrian Water's Richard Warneford
The 'Water Rangers' initiative will encourage and enable local people to help protect and improve water quality in rivers, streams, becks, burns and bathing waters.
Each volunteer, over the age of 18, who signs up for the scheme will be needed to walk along a public access waterside route, once a week or once a fortnight. There are 32 routes to choose from, which are between 210 metres and 1.2 kilometres long.
After doing their walk, Water Rangers will report on the condition of the river, stream, beck, burn or bathing water within their route, to Northumbrian Water, so that any potential pollution can be dealt with quickly.
Those who sign up will receive thorough training, a reward to reflect an annual reduction on their annual water and sewerage bill and other thank you incentives, including an invitation to an annual celebration dinner.
Northumbrian Water's Wastewater Director, Richard Warneford, said: "We appreciate the significant impact that the quality of watercourses and bathing waters has on the ecological system, tourism, economy and recreational activities within our region.
"Our Water Rangers scheme reflects our commitment to looking after the environment and this initiative is a creative, healthy and fun way to encourage our customers and local communities to help us to do this.
"We monitor our sewer network very closely by using technology and manual inspections and we are continually maintaining and upgrading the network. Northumbrian Water's supply area is vast – we cover a geographical area of 9,422 square kilometres and we monitor and look after thousands of assets, including more than 29,500 kilometres of sewer pipe.
"Pollution from our assets is something we are taking very seriously and working very hard to tackle. The Water Rangers scheme will provide us with further information and knowledge to help us do this."
The scheme is being run in Skelton (Middlesbrough), Peterlee, Hebburn, Jarrow, Stanley, Durham City Centre, Corbridge, Stocksfield, Bedlington, Ashington, Cambois and Morpeth.
Further information about the Water Rangers scheme is available at www.nwl.co.uk/WaterRangers.