Northumbrian's Water Rangers to help spot leaks
Northumbrian Water has announced that its team of volunteers will now assist in finding leaks.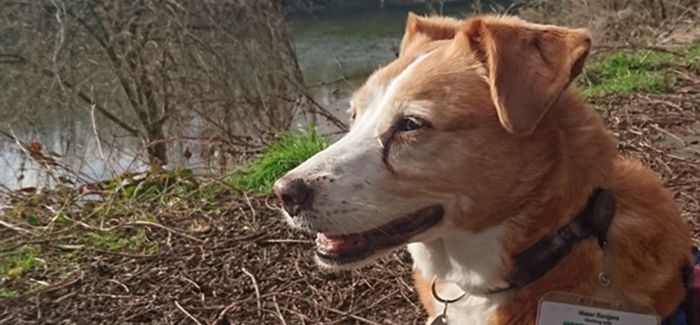 Sally, a canine assistant to the Water Rangers, on patrol at River Wansbeck.
The company′s Water Rangers, who ordinarily patrol and monitor waterways looking for pollution, are helping in the battle against leakage by keeping their eyes out for leaks and bursts while on their routes.
Referencing the nationwide spate of leaks and bursts caused by the recent extreme weather, Northumbrian said that although networks are currently operating well it is important to avoid complacency.
Water Rangers co-ordinator Vicky Cairns said: "Our volunteers, who act as additional eyes and ears, are the perfect team to assist us on the lookout for leaks and bursts, as well as potential pollution threats to the environment.
"We′re so incredibly proud of our Water Rangers and their ongoing support in helping us to protect the environment and tackling water leaks.
"Everyone can do their bit to help protect our region′s waterways and to keep a look out for water leaks by protecting this precious resource."
The Water Rangers volunteers are made up of 62 adults, eight children and five dogs.
The team help Northumbrian Water protect the environment and monitor over 74km of the region′s waterways and report their findings so that any potential pollution threats to the environment can be dealt with quickly.
They also look out issues that are not the responsibility of Northumbrian Water such as fly tipping, abandoned shopping trolleys, fallen trees and debris causing obstructions in watercourses so this information can be passed on to the relevant authority.
Since the community initiative was launched in 2014, volunteer Water Rangers have completed more than 4,600 patrols and reported over 235 issues.