Northumbrian Water puts faith in digital twin solution
Northumbrian Water is confident digital twin technology will bring substantial benefits, group information services director Nigel Watson told the 2019 WWT Wastewater Conference yesterday (29 January).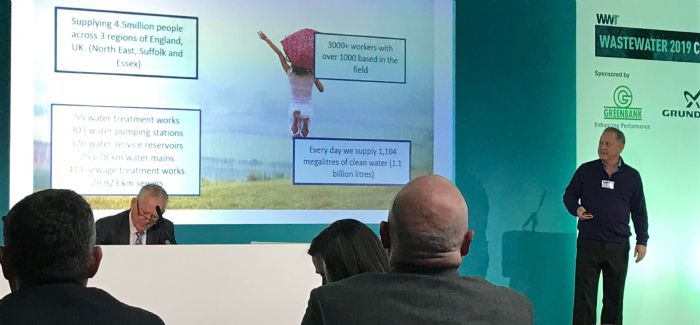 The company announced in September that it was teaming up with Newcastle University to explore the potential of the technology, which involves the creation of a virtual model of the real world, to help understand whether homes and businesses are in danger of being flooded, or environments being polluted, and prioritise the appropriate response actions.
Watson said Northumbrian Water had made its first foray into data science just over two years ago and, while it had yet to "place any big bets" in regard to technology, it had run a number of trials.
"Looking into the future, I think the big bet that we're placing is on digital twins," he told delegates.
"We took this concept from the world of Formula 1. There about 15,000 moving parts on a Formula 1 car and they run a million simulations per second during the race.
"When they run those million simulations a second, they identify the two that are most likely to occur. There's a lot of external factors in a Grand Prix – you've got the track and whether it's wet; you've got a lot of other cars moving around at very high speeds; and your car and all the moving parts on that platform.
"They run the million simulations a second and someone below the age of 27 – because once you're over 27 you're too slow to do this job – sits back and two options come up in front of them and they decide on which instruction should go back to the driver."
Watson acknowledged that there are significant differences between Formula 1 and a wastewater network but said there are enough parallels to believe the approach can be applied successfully.
"We don't need to run a million simulations a second, but that ability to simulate is really the key thing," he said. "Digital twins are often seen as 3D representations of a bit of Britain, or a bit of infrastructure, that look lovely but aren't very useful. When you start to lay a bit of operational data and it gets a bit more useful, but it's still just another way of representing data.
"We think simulation is the real game-changer – the pace at which you're able to run hypotheses with cloud computing. You can point a huge amount of computer power at a problem in a split-second of time."
He suggested multiple use cases, such as incident management in the case of a burst.
"At the moment, we would look at it in terms of the least impact on the water network," he said. "Maybe if we were to overlay the customer data there as well, instead of cutting off a bunch of customers who are at home we can cut off the one down the road where they're actually at work.
"We also think it's very useful from an asset investment point of view – taking the weather data and running it forward over a 25-year period, looking at where we get the best value.
"In a country that has a lot of old infrastructure, being able to make better decisions on where we invest in the future is a really good capability."
The 2019 Wastewater Conference was sponsored by Greenbank, Grundfos and nmcn.