Northumbrian Water creates gas from sewage for the national grid
Northumbrian Water is now creating gas from sewage treatment for the national grid, having generated electricity for the past three years. The company already uses all its sludge remaining after sewage treatment to produce renewable electricity, and it also has the biggest gas-to-grid plant of its kind in the industry that cleans and purifies the biogas to create biomethane which is then injected into the grid.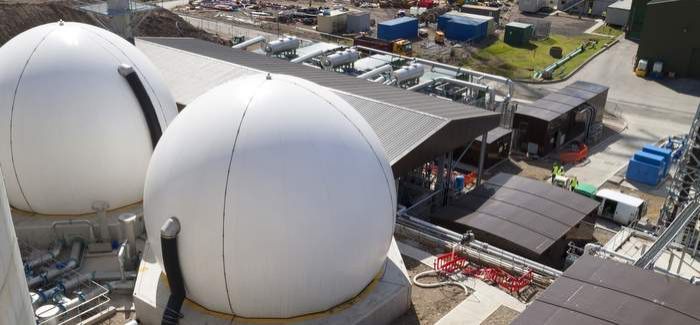 Howdon will produce enough gas to supply about 5,000 homes
The £8M gas-to-grid plant is in the final stages of commissioning at Howdon. The plant has been built alongside Northumbrian Water's advanced anaerobic digestion (AAD) electricity generation process, which has already saved multimillions of pounds in operating costs and delivered a 20% cut in the water company's carbon footprint.
When fully commissioned the gas-to-grid plant at Howdon will produce up to 88 million kilowatt hours (kWh) of renewable energy a year, enough to supply the gas requirements of about 5,000 domestic homes. The plant will also deliver a £3M annual efficiency for Northumbrian Water.
Richard Warneford, Northumbrian Water's wastewater director, said: "We are now able to produce both gas and electricity. More than 20% of our total power use is now from renewable energy sources including hydro power at our treatment works and reservoirs like Kielder Water. We are leading the industry in pushing the bounds of technology and learning from the challenges of integrating the new gas plant with our existing advanced sewage treatment and electricity generation processes."
The advanced anaerobic digestion (AAD) thermal hydrolysis process involves pre-treating the sludge remaining after sewage treatment, heating it to 165deg C under six bars of pressure. This destroys any pathogens and breaks down the cell structure, which makes it better to be fed to billions of bacteria in giant digester tanks.
The resulting biogas released by the bacteria is collected in 11m diameter biogas storage bags before being burned in gas engines capable of producing nearly 10 megawatts of electricity or being fed into the gas into grid process. Waste heat and steam generated from the process are also captured and recycled for use elsewhere at the works.
In addition to Howdon, Northumbrian Water also has a second AAD plant at Bran Sands on Teesside. Between them, the two AAD plants reduce about 300,000 tonnes of wet sludge, resulting from the treatment of domestic sewage and biodegradable industrial effluent from a population equivalent of about four million, to about 100,000 tonnes.
Northumbrian is monitoring the new facility with a view to possible future installation of further plant alongside its Bran Sands AAD site.