Northumbrian take top prize in National Drilling and Tapping competition
Northumbrian Water won the Institute of Water's National Drilling and Tapping competition for the first time as the event celebrated its 30th anniversary at Utility Week Live in Birmingham on May 22 and 23.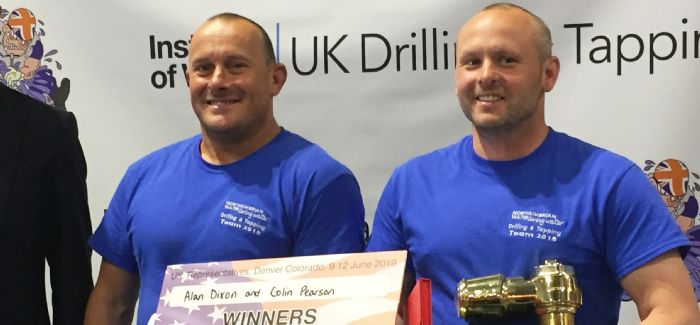 Reigning champions Anglian Water and former champions Bournemouth Water had appeared the teams to beat in the battle for the Talis Men's Trophy, but underdogs Northumbrian Water team Alan Dixon and Colin Pearson took first place with a time of two minutes and 24 seconds and a quality tap.
The Northumbrian Water team will go on to represent the UK in the ACE competition in Denver in June 2019, sponsored by the Institute of Water, and in the World Water Cup in Amsterdam in November 2019, sponsored by Mueller International.
Institute of Water chief executive Lynn Cooper said: "We're extremely excited with this year's outcome: the Northumbrian Water team has been competing in the event for a number of years now and to see them improve each year and finally win the championship is fantastic.
"I know that the team members were thrilled with their achievement and their chief executive, Heidi Mottram, was too. Hopefully this will send a message to teams considering entering the competition that, with dedication and practice, it can be done and the championship title can be won. 
"As it has been for the 29 previous years, the camaraderie between the teams was wonderful to witness and creates a buzz around the competition. I'd like to thank all our competing teams, sponsors and judges involved and we look forward to seeing you all again next year."
There was no women's competition this year, but Waternet Women's team were recognised for their participation in the UK competition and will be competing in the Aquatech competition in Amsterdam next year.
Drilling and Tapping Competition 2018 Results
First place and winner of the Talis Men's Trophy: Northumbrian Water, 2mins, 24secs
Second place: Bournemouth Water (part of Pennon Group), 2mins 48secs
Third place: Anglian Water, 2mins 49secs
For more information on the National Drilling and Tapping competition, visit the official website here.