Northumbrian reveals its 'big questions' for Innovation Festival
Northumbrian Water Group has announced the 13 major questions it will tackle when its Innovation Festival returns this summer.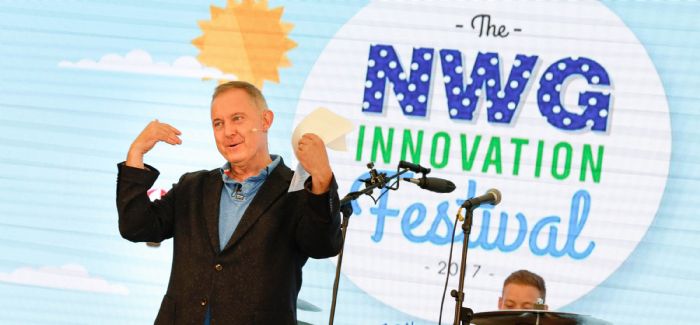 Northumbrian Water Group information services director Nigel Watson at last year's festival
It was confirmed last week that the festival will take place at Newcastle Racecourse from 9 to 13 July, doubling in size after a successful debut last year.
The five-day event will see major national and global companies working with innovation experts, regional businesses, local universities, schools and members of the public to come up with and explore innovative ways to help change the world.
The group has now confirmed that the following questions will be tackled at this summer's event:
Starting from scratch – How do you create the 'perfect' water company?
Going deeper underground – Can we build an underground map of the UK?
 
Smart Objectives – Smart devices are filling up our homes. How can we improve customers' lives by making the most of Smart technology?
Fans for life – How to build advocacy with our communities and customers
'Testing the water' – How can the use of Digital Twins improve our future?
Moving on – What will the future of transport look like?
Green planet – How can we become a carbon positive company?
Smiling happy people power – How can we create a happier more productive workforce?
Building blocks – How can innovation and tech improve design, construction operation and maintenance?
Vision of the future – How can we improve the lives of people who are visually impaired?
Every drop counts – How and why do we need to save water?
Blue Planet: Teenager sprint – How can we reduce the impact of single-use plastics?
Fighting flooding – How can we reduce the risk and build for the future?
Nigel Watson, Northumbrian Water Group information services director, said: "The Innovation Festival is back for 2018 and it's going to be even bigger and more ambitious than last year!
"We have some of the most innovative and creative minds from across the globe taking part in this celebration of creativity and we've set them one, pretty major and important, task – to try and change the world... so not that tough then!
"We're asking some big questions that affect us all – how can the world save water? What is the future of transport? How can we help save the environment through single plastic use, pollution and by saving energy? And we've got experts from all of these areas together in one place for one week to come up with some solutions.
"Last year saw some truly amazing ideas come out of the festival and into fruition and I can't wait to see what this year brings. It's going to be a fantastic event for everyone involved, the north east region and hopefully the whole world!"
For more information, visit www.innovationfestival.org.