Northumbrian launches interactive online leakage map
Northumbrian Water has launched a new interactive online map that gives customers the power to report leaks and track repairs at the touch of a button.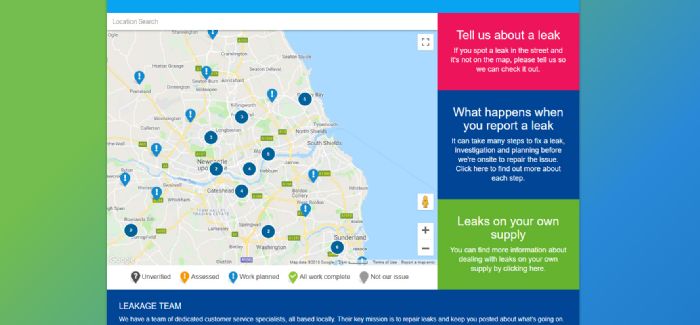 The company has pledged to reduce leakage across its network by 15 per cent over the next few years, through significant investment and an innovative approach.
The interactive map, which can be viewed here, shows reported leaks on the Northumbrian Water network.
Customers can use the map to find out whether a leak has already been reported and check the progress of the repair. If it has not been reported, they can then make their report online, which is passed directly to an advisor.
The map also features tools to help customers describe the type of leak they have seen, and they can even upload photos so it can be identified and prioritised for repairs.
Once a leak has been reported, it will be included on the interactive map and updates will be provided until a repair has been completed.
Eliane Algaard, water director for Northumbrian Water said: "We are firmly committed to driving down leakage across our network and have set ourselves an ambitious target of reducing it by 15 per cent by 2025.
"To achieve this, we are making a significant investment into finding and fixing leaks and taking an innovative approach. We are putting more resources into hunting down leaks so we can get them repaired as quickly as possible, and our customers can really help us by reporting anything they spot to us.
"The new interactive map allows our customers to check whether we already on the case with a leak they have spotted, and report it to us quickly and easily if not. We are also committed to keeping our customers updated on our progress, so once a leak has been reported they can track the repair right through to completion."
The interactive map website also include information on what happens once a leak is reported, and what customers should do if they find a leak on their own supply.
The company is currently working on a number of approaches to reducing leakage, including using satellite technology to capture images which can be used to detect leaks, which can then be passed on to leakage technicians on the ground.
Read our WWT Explains report on Smart Metering and Leakage here