Northumbrian hits the road to meet potential suppliers
Northumbrian Water is taking to the road next week to encourage more local businesses to seek out opportunities to become its suppliers.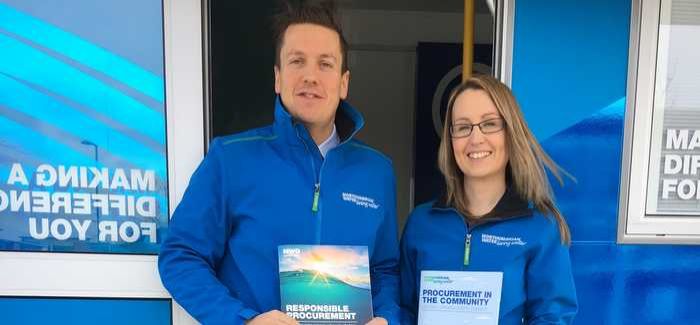 The NWG procurement team on board the 'Flo' vehicle
Northumbrian Water Group spends around £400m a year on goods, works and services with 65% being sourced from local suppliers. They are keen to further develop relationships with regional companies which will help towards boosting economic growth, jobs and prosperity in the North East.
It's the second time the company has set up a temporary office for a day in North Tyneside for prospective suppliers to come along and ask questions about its tender process. Northumbrian Water's procurement experts will be on hand to offer advice and support to businesses as well as to anyone thinking of going into business.
Northumbrian Water's Head of Procurement, Steve Crake, said the move to engage more with current and potential suppliers was part of the organisation's "Responsible Procurement" strategy.
"We enjoy such good relationships with local businesses - more than half of our suppliers come from within our regions - and we want this to continue to attract more high-quality local suppliers.
"We are keen to hear from companies who are daunted by the tendering process and offer our support to them as we know that it can be a time-consuming process. Our aim is to make the process as simple and straightforward as possible, while still fulfilling the corporate and legal obligations required of us."
Northumbrian Water's community vehicle "Flo" will be parked at Quorum Business Park on Tuesday, June 4 between 9am and 4pm.
Northumbrian Water's Director of Corporate Communications, Louise Hunter, said: "It's important to us that we continue to support regional businesses wherever we can and by basing our procurement team in the heart of the business community, this can help to do just that.
"We are keen to engage and offer support to companies who are interested in working with us and joining our roster of suppliers, but have been put off by the tendering process. I'd encourage businesses and anyone starting a business to take advance of talking with our procurement experts for free advice and support."   
North East England Chamber of Commerce Chief Executive, James Ramsbotham, has backed Northumbrian Water's push for "looking local" in its search for new suppliers.
He said: "If we are to realise the economic potential of the North East, then we need our large organisations to be proactive in working with small businesses and helping them enter their supply chains."
"I applaud the goal Northumbrian Water has set to increase its spend with local businesses to 60p in every £1. I hope many Chamber members will take advantage of this opportunity to engage with one of the North East's most forward-thinking companies, and one that is really committed to building a strong economy in our region."
For more information and/or to arrange to meet with Northumbrian Water's procurement team e-mail: responsibleprocurement@nwl.co.uk